10 Minute Fitness: Booty Burn
Author: Shannon Miller
May 4, 2017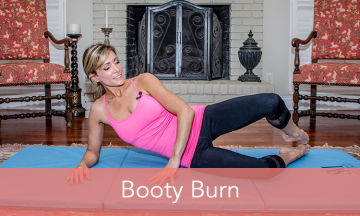 We do our lunges, squats and any other way we can think to tighten, tone and strengthen our backside. When it starts to get boring, I try to find a new twist or a subtle change that works muscles that may have been dormant since my balance beam days.
These are some of my favorite "booty burn" moves that keep my workouts fun so I can keep going on even the toughest days. What are some of your favorite moves to tone your booty?
After checking out this video, let me know what you think! Is there a body part you'd like me to focus on or a new tip you think should be included? Just comment below or in the comments section on Youtube and give me your feedback. I know you're on social media, so go ahead and tag me on Twitter and Instagram @shannonmiller96 or Facebook @shannonmillerofficial and use the hashtag #10minutefitness.
Also if you like what I'm wearing, visit saltoactive.com!
Leave a Reply