10-Minute Fitness: Entire Lower Body Workout
Author: Shannon Miller Lifestyle
November 17, 2017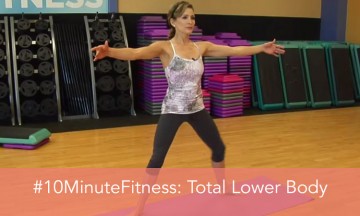 Add this 10-minute workout a couple times a week and get results!
Our lower body is a area we want to look good but it's also an important part of maintaining stability and balance, and the large muscle groups in your legs helps burn calories fast! After your 10 Minute Fitness Ab Workout, let me know what you think. Is there a body part you'd like me to focus on or a new tip you think should be included?  Just comment below (or in the video comments on Youtube) and let me know.
I know you're on social media, so tag me on Twitter and Instagram @shannonmiller96 or Facebook @shannonmillerOfficial and use the hashtag #10MinuteFitness.
Leave a Reply
One Response to " 10-Minute Fitness: Entire Lower Body Workout "
Lisa Says:

Hi Shannon,

I recently broke my 5th metatarsal and I am looking for a workout that will help keep my body fit, while I am unable to use my left foot. I am currently in an air cast and using crutches.

Thanks for any suggestions to help me stay fit.

Lisa