10-Minute Fitness Video: Workout Like a Gymnast
Author: Shannon Miller
July 12, 2018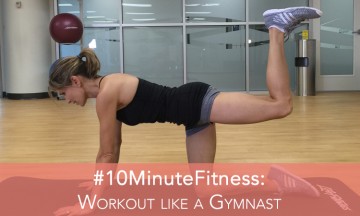 Ever wonder how gymnasts get those seriously toned bodies? Well yes, they workout…..a lot! However, you don't have to do full twisting double backs in daily life. You can cut down YOUR training to a more realistic timeframe of 30-60 minutes most days of the week.
Make Fitness a Priority
The more you can get your heart rate up, the better. As a cardiologist once told me, "You don't get up in the morning and forget to brush your teeth. You do it twice a day…every day. You don't say to yourself, 'Well, things are really busy at work right now so I'll eat in a couple weeks when things calm down.' No, you do it every day." He explained that we have to make fitness a part of our everyday schedule, our everyday reality.
I hope that these 10 Minute Fitness videos will keep you engaged in your health, energize you, and help work fitness into your daily schedule. If you can only do one, then you did 10 minutes more than you were going to do. If you can do 2 videos and a long walk or 10 minutes of swimming or jumping rope, then you're doing great!
While I may have worked out A LOT to earn a gold medal, I realize that my workouts these days are also critically important. I'm no longer training for gold—I'm training for life!
Let's do this together!
So, what do you think about this small taste of what it's like to workout like a gymnast? Do you want more? Let me know what you think.  Just comment below (or in the video comments on Youtube) and let me know. I know you're on social media, so tag me on Twitter and Instagram @shannonmiller96 or Facebook @shannonmillerOfficial and use the hashtag #10MinuteFitness. Have more time today? Check out all the other 10 Minute Fitness videos here!
Leave a Reply