#10MinuteFitness: 6-Pack Abs Workout
Author: Shannon Miller
October 13, 2017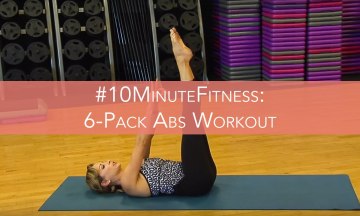 We all want that strong core, and that's why I love this #10minutefitness video!
With this workout, we're going to learn some fun ways to tighten up and strengthen those belly muscles, in just 10 short minutes! And afterwards, you will feel a difference in your abs and back (and maybe even down to your quads). So get ready to work your abs with stretches, roll-ups, core tightening, and more.

After checking out this video, let me know what you think!
Is there a body part you'd like me to focus on or a new tip you think should be included? Just comment below or in the comments section on YouTube and give me your feedback. I know you're on social media, so go ahead and tag me on Twitter and Instagram @shannonmiller96 or Facebook @shannonmillerofficial and use the hashtag #10minutefitness.
Leave a Reply