#10MinuteFitness: Abs Like a Gymnast with Shannon
Author: SM Lifestyle
May 10, 2018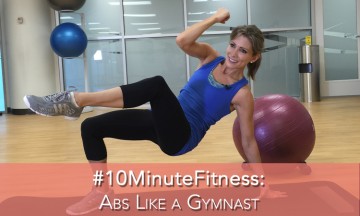 Summer is almost here, and your tummy will be wanting to once again see the light of day! So, let's get it ready for swimsuit season with this 10 minute workout!! If you've been paying attention to gymnastics this year, you'll notice the abs on these athletes. Yes, they work out for hours on end, but the great thing is that you CAN get strong, amazing abs without a six-hour workout!
In this video, I'll show you some of my favorite ab exercises from the many years I spent training in gymnastics. (No balance beam required!) So get ready for that strong core, get ready to show off that midsection after a long winter, and get ready to feel like a gymnast!
After your #10 minute abs workout, let me know what you think. Is there a body part you'd like me to focus on, or a new tip you think should be included?  Just comment below (or in the video comments on Youtube) and let me know. I know you're on social media, so tag me on Twitter and Instagram @shannonmiller96 or Facebook @shannonmillerOfficial and use the hashtag #10MinuteFitness. Have more time today and want to get in a full 30 minute wokout? Check out all the other 10 Minute Fitness videos here!
Leave a Reply
2 Responses to " #10MinuteFitness: Abs Like a Gymnast with Shannon "
Karen Says:

I am going to implement these exercises into my Physical Education program. Thank you

Amy Brin Says:

That felt great, but I had difficulty with the sit-up while my legs were in a v. I am so out of shape. Hopefully it will be easier after a few days. Thanks for the inspiration!