Tighten Your Tummy
Author: Shannon Miller Lifestyle
February 2, 2017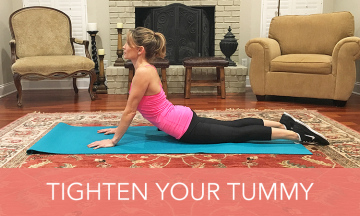 You're a month into the year. You may be doing great with your new years resolution, but maybe you've slacked off a bit. Hey, it happens. But I want to make your goals a reality. It's not about what month of the year it is. Health happens every day! So if you got off track, just get right back on a quickly as possible. And you don't have to take giant leaps, just take a few baby steps each day. Find a time that works for you. Just know that a minimum of 30 minutes of getting that heart rate up is the goal 4-5 days per week. It can happen 10 minutes at a time.
It's ten minutes, so let's get started together!
With my 10 minute fitness videos, working out has never been easier. If you have 10 minutes, watch one. If you have 40 minutes, watch 4. Build on your own schedule but don't forget to make your health a priority. In this video I'm going to show you a few easy exercises  to help tighten that tummy. Post pregnancy or just after the holidays, getting your stomach back can be frustrating. These exercises will not only work out your abs but also your back, arms, shoulders, obliques…and more! To get the most out of your exercises, it's best to use exercises that incorporate more than one muscle. So go ahead! Press play and get your February on!
After checking out this video, let me know what you think! Is there a body part you'd like me to focus on or a new tip you think should be included? Just comment below or in the comments section on Youtube and give me your feedback. I know you're on social media, so go ahead and tag me on Twitter and Instagram @shannonmiller96 or Facebook @shannonmillerofficial and use the hashtag #10minutefitness.
Leave a Reply