#10MinuteFitness: Washboard Abs Workout
Author: Shannon Miller Lifestyle
January 24, 2018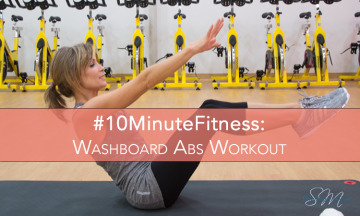 We all want those washboard abs, and it's about more than just looking cute in a trendy crop-top. We need them for our core strength and overall fitness. Our entire body benefits when our abs are strong. You'll have less back pain and better posture after just a few weeks of solid core training, and just 10 minutes at a time will help you get there.
Are you ready to say goodbye to back pain caused by weak abs and get on the road to strong, defined abs? By the end of this 10-Minute Fitness video, your abs will be on fire!
After your #10MinuteFitness Washboard Abs Workout let me know what you think. Is there a body part you'd like me to focus on or a new tip you think should be included? Just comment below (or in the video comments on Youtube) and let me know. I know you're on social media, so tag me on Twitter and Instagram @shannonmiller96 or Facebook @shannonmillerOfficial and use the hashtag #10MinuteFitness.
Save
Leave a Reply
2 Responses to " #10MinuteFitness: Washboard Abs Workout "
Jodi Karns Says:

I would love to see a workout focused on the thighs…both inner and outer. :)

Shannon Miller Lifestyle Says:

We'll add it to the list. Thanks!