#GymnasticsHowTo: Where to Look When On Balance Beam
Author: Shannon Miller Lifestyle
May 15, 2018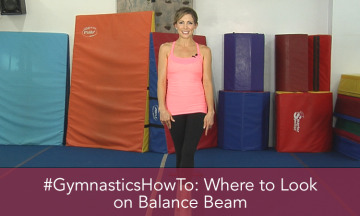 "Where do I look when I'm on the balance beam??"
I hear that question every now and then during a clinic or during a gym visit.  More often than not, I witness gymnasts (of all ages and levels) looking in the wrong spot and finding themselves quickly off the beam and on the floor, frustrated with why they can't seem to keep their balance.
Staying on the balance beam isn't as simple as one correction, but knowing where to look will take you a long way in keeping your balance and learning skills faster. In this video, I show you where the best place is to keep your sight-line and your focus (hint: it's not looking at mom sitting in the bleachers).
It may take a little adjusting at first, but this is something you can work on at home and every day in the gym. Try it for a few weeks, and see how much it helps you in gaining your balance and awareness. In addition, you'll be less afraid of certain moves because you'll always know where the beam is! Soon you'll be a master, and you'll find yourself ON the beam much more than you end up OFF the beam.
Do you have questions about gymnastics you'd like to ask? Comment below (or in the video comments on Youtube) to let me know how you handle fear and if there is anything in the gymnastics world you want to know more about! If you're on social media, tag me on Twitter and Instagram @shannonmiller96 or Facebook @shannonmillerOfficial and use the hashtag #GYMNASTICSHOWTO. Can't wait to hear from you!
Leave a Reply