Balance on Everything
Author: Shannon Miller Lifestyle
February 9, 2017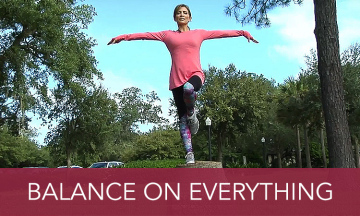 As you guys know, my last few gym how to videos have been set outside the gym. As a gymnast, it's important to practice as much as you can and get out of your comfort zone. Although this is the last video I'll be doing outside for a while I strongly encourage you guys to apply this every day. Maybe it doesn't have to be at a park, but in your living room, your back yard…find time in the day to sharpen your skills to advance you as a gymnast.
In this video I just want to show you guys that you can practice your balance anywhere on anything. You want to get used to balancing on heights,  you want to get used to new surroundings and new stages. Always make sure you have 1 or 2 spotters with you and make sure you're being safe. Take a look at my YouTube videos to get some ideas of how you can further your training and comment how you practice your basics outside of the gym!
For more gymnastic how-to videos click here.
Do you have questions about gymnastics you'd like to ask? Comment below (or in the video comments on Youtube) to let me know how you handle fear and if there is anything in the gymnastics world you want to know more about!
Also, if you like what I'm wearing, go check out my new fitness line Salto™ here.
If you're on social media, tag me on Twitter and Instagram @shannonmiller96 or Facebook @shannonmillerOfficial and use the hashtag #GymasticsHowTo. Can't wait to hear from you!
Leave a Reply