#GymnasticsHowTo: Do an Amazing Full Turn
Author: Shannon Miller Lifestyle
May 10, 2018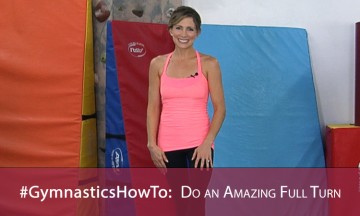 A full turn can be one of the prettiest skills on floor and on balance beam…..it can also be one of the ugliest when it goes wrong. Think of dancers and how light and effortless their turns seem to be. Often times we gymnasts take a more athletic approach to a skill that needs a touch more finesse than brute force. A full turn is one of those skills.
It looks so simple, yet when you focus on balance and understand what each body part should be doing at every moment of your turn, you will realize just how intricate this move truly is. But don't let that scare you. When you train the proper technique, you find out how easy it is to take control of your turn.
In this Gymnastics How To segment, I'm going to show you the steps you can take and the specific drills you can practice at home or at the gym to help you achieve a gorgeous full turn! From toe to knee and hip to finger, every body part has a role. Work on these drills, and be ready for that next competition. You'll wow the judges with your control of this skill. And when you master the full turn in a basic Possé position, you'll be on the way to learning more difficult leg positions without giving up your balance and form.
So watch this video and start practicing… you've got this!
Do you have questions about gymnastics you'd like to ask?
Comment below (or in the video comments on Youtube) to let me know how you handle fear and if there is anything in the gymnastics world you want to know more about! If you're on social media, tag me on Twitter and Instagram @shannonmiller96 or Facebook @shannonmillerOfficial and use the hashtag #GymasticsHowTo. Can't wait to hear from you!
Leave a Reply