#GymnasticsHowTo: Press-to-Handstand
Author: Shannon Miller
March 15, 2018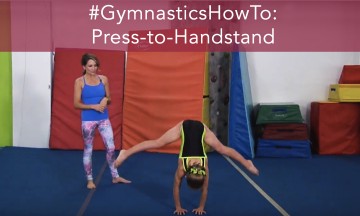 Ahh, the press to handstand. This is an amazing skill that takes strength, balance, flexibility and lots and lots of practice. The good news is you can safely practice this skill at the gym and for hours and hours at home (much to your parents delight, I'm sure).
This video here or below will take you through some good drills to work if you want to master this skill and make it pretty! If you work on these drills each day along with your flexibility, you'll be able to show off your press-to-handstand in no time.
However, don't worry if it seems to be taking longer than you'd like. Every gymnast is different and your size may play a factor. If you have really long legs, you may want to focus a little more on your flexibility which will allow you to get your legs up and over a little easier. If you have short legs, you can compensate by using a little bit more strength. Balance is often an afterthought on this skill. Don't make that mistake. Often you can correct a mistake or make up for a lack of strength and flexibility by utilizing your shoulder angle.
A gymnast of any size can master this skill; you just need to understand your body type and focus on ways you can excel through a combination of strength, flexibility, and balance. So don't compare your progress to the others in your group. Work these drills and do your very best each day. I promise, it will come!
Do you have questions about gymnastics you'd like to ask? Comment below (or in the video comments on Youtube) to let me know how you handle fear and if there is anything in the gymnastics world you want to know more about! If you're on social media, tag me on Twitter and Instagram @shannonmiller96 or Facebook @shannonmillerOfficial and use the hashtag #GymnasticsHowTo. Can't wait to hear from you!
Leave a Reply