#GymnasticsHowTo: Floor Routine Etiquette
Author: Shannon Miller
July 11, 2017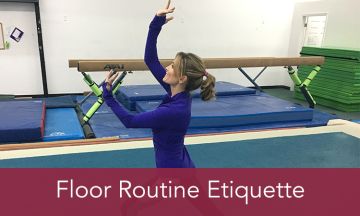 In this #GymnasticsHowTo video, we are going over Floor Routine Etiquette!
We often think about skills, leaps, jumps, choreography, etc. but your presentation is just as important! This is why your Floor Routine Etiquette is key.
In this video we will go over the importance of music, smile or no smile, and presentation. Not only will I discuss why these things are important, but I will break down piece by piece WHY these components make your routine complete! Don't forget, CONFIDENCE is what makes you shine in the eyes of judges. Practice makes perfect!
Do you have questions about gymnastics you'd like to ask? Comment below (or in the video comments on Youtube) and let me know if there is anything in the gymnastics world you want to know more about!
Also, if you like what I'm wearing, go check out my new fitness line Salto™ here.
If you're on social media, tag me on Twitter and Instagram @shannonmiller96 or Facebook @shannonmillerOfficial and use the hashtag #GymasticsHowTo. Can't wait to hear from you!
Leave a Reply