#GymnasticsHowTo: The Perfect, Strong Lunge
Author: Shannon Miller
June 12, 2018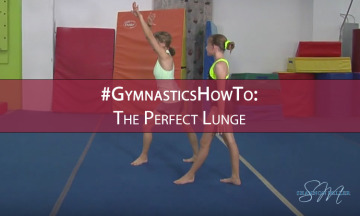 Ahhh the perfect, strong lunge.
The lunge is another basic, yet extremely important, skill in gymnastics. The lunge keeps you stable on landings, looks great for the judges, and also helps you learn bigger skills. However, all lunges are not equal. It has to be pretty as well as strong and secure. While this is often the finale of a skill, it's also what can keep you on the beam after a wobble. A strong lunge can even help prevent that wobble in the first place!
In this Gymnastics How-To video, I'll take you through the make up of the "perfect lunge". We'll talk about which muscles are critical and why your body position matters. This video will also help you in working your lunge at home or in the gym. Once you know what to do, it's just a matter of practice, practice, practice until it becomes a very natural position for your body. Practice like you compete!
So, check out the video, and send me a pic of your awesome, perfect, strong lunge on my social media channels!
If you want to check out the back walkover video referenced above, check it out here!
Do you have questions about gymnastics you'd like to ask? Comment below (or in the video comments on Youtube) to show me your perfect lunge!  If you're on social media, tag me on Twitter and Instagram @shannonmiller96 or Facebook @shannonmillerOfficial. Use the tag #GymnasticsHowTo, and I'll see you at the (virtual) gym!
Leave a Reply
One Response to " #GymnasticsHowTo: The Perfect, Strong Lunge "
Victoria Says:

December 9th, 2015 at 10:50 am

First, re-evaluate your goals. Are they realistic Do you need to adusjt the time to obtain for your perfect goal What's your ultimate goal What is an OK goal What is wholesome Maybe you need to alter the time frame. That's OK. An additional week or month or two months might be a better option for the objective to obtain to individuals six pack ab muscles.