How To Gymnastics: How to Get Your Over Splits
Author: Shannon Miller Lifestyle
January 31, 2018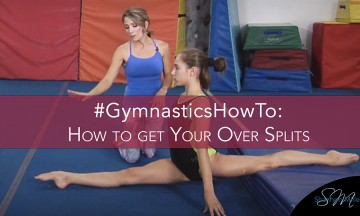 Overview on Over Splits and Flexibility

We all love to watch the amazing split leaps and drool-worthy flexibility of some of the top gymnasts in the world. But if you're just starting out in gymnastics, dance, cheerleading, or you're simply not as naturally flexible as others, you may wonder if you'll ever have a split that looks like the ones you see on television.
Do not fear, it is possible.
There is no getting around the work needed to improve your splits, but if you're willing to put in the time and effort you can make a significant difference in your "barely there" 180 degree split and achieve that  gorgeous over-split!
In this How To Gymnastics video, I'll share with you some of the most important steps you can take in order to create a split the judges will love. By taking these steps in the gym (and at home), you can work safely and effectively. Not only does this split help your lines during leaps and jumps, but having good flexibility assists you in learning skills faster and can prevent injury.
As you work to gain strength through your conditioning (that you love so much), don't forget that your splits and other flexibility are just as critical to your success in learning and competing. So let's get to it! Watch this video and then share your success with me via social media!
After you check out this How to Get Your Over Splits, let me know what you think! Any ideas or drills you'd like to see added? Or just comment below (or in the video comments on Youtube) to let me know some skills that you'd like to get some help with. If you're on social media, tag me with the hashtag #GYMNASTICSHOWTO. I want to hear from you!
Leave a Reply
One Response to " How To Gymnastics: How to Get Your Over Splits "
Helen Hardin Says:

Hi! My seven year old cannot seem to get her pullover on the bar, any tips or how too for that? What can we do at home to help her on the bar?