How To Gymnastics: How to Perfect a Back Walkover Part 1
Author: Shannon Miller Lifestyle
February 15, 2018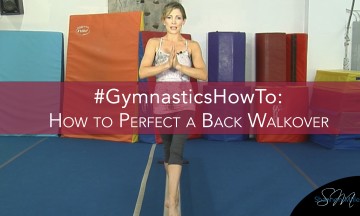 If you're a gymnast, no matter what your age, you're probably hoping to one day do a flip. We start with forward rolls and move on to bigger and more amazing skills as we get stronger, more flexible, and a little more daring. One of those skills that seems to be a gymnastics milestones is the back walkover. Yes, you're using your hands, but the fact that you're head-over-heels qualifies it as a flip, lol.
You always remember the day you got your back walkover!
In this Gymnastics How To video, I'll take you through the mechanics of a back walkover that you need to understand so that you can conquer this skill once and for all. Going backward for the first time can be a little scary. Don't worry, you're not the only one who's ever felt the butterflies before leaning backward toward your head! However, the more you understand the different parts of this skill, and work on those pieces, the easier it will be when it comes time to put that puzzle together.
We'll begin with the proper start position and move through each portion of the skill. From start to finish, these are the things you need to work so that you can be successful with this skill. And of course the more you work it, the faster you'll progress!
When you're stretching, conditioning, or working specific positions or drills, you will better understand how these things help you, not just learn the higher level skills, but perform them well. Now it's time to learn your back walkover!
Good luck and have fun!

Do you have questions about gymnastics you'd like to ask? Comment below (or in the video comments on YouTube) to let me know how you handle fear and if there is anything in the gymnastics world you want to know more about! If you're on social media, tag me on Twitter and Instagram @shannonmiller96 or Facebook @shannonmillerOfficial and use the hashtag #GymnasticsHowTo. Can't wait to hear from you!
Leave a Reply
2 Responses to " How To Gymnastics: How to Perfect a Back Walkover Part 1 "
Sarah Says:

December 24th, 2017 at 5:07 pm

When I try to do a backwalkover sometimes I do it successfully and sometimes I fall on my head and my hands can lift me .. I find doing a backend on one leg very difficult and it's so frustrating

Shannon Miller Lifestyle Says:

December 26th, 2017 at 3:48 pm

I completely understand the frustration. Without seeing you perform the skill I want to be careful not to give you wrong information. However, things that are important to work will be your back bend position, handstands (to increase strength and stability in that position and asking for a spot from your coach for a bit until you get more comfortable in the proper position. ~SM