#GymnasticsHowTo: How To Hold a Longer Handstand
Author: Shannon Miller Lifestyle
October 18, 2017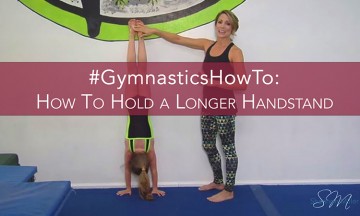 Do you ever wish you could hold your handstand longer….a lot longer?
Do you worry that not having a solid handstand is holding you back from learning other skills? In this #GymnasticsHowTo video, I'll share with you the importance of the handstand, as well as my tips for creating the most stable position.
The goal is to feel strong and confident in your handstand position so that you can easily and consistently hit that position. Mastering the handstand sets you up to more easily learn a wealth of other skills including a back walkover, press to handstand, cast to handstand, block off vault, front and back handsprings, and the list goes on and on.
Watch this video to learn the exact position for each body part and get a few drills you can use to work safely at home or in the gym! If you suffer from "banana back" or just can't seem to hold it for more than a second or two, this video is for you. There is no replacement for practice, but you have to practice in the correct position if you want success.
Good luck and have fun! (And make sure to snap a pic off your best handstand and send it to me using #SMGymnastOfTheMonth!)
After you check out this How To Hold A Longer Handstand video, let me know what you think! Any ideas or drills you'd like to see added? Just comment below (or in the video comments on Youtube) to let me know some skills that you'd like to get some help with. If you're on social media, tag me on Twitter and Instagram @shannonmiller96 or Facebook @shannonmillerOfficial and use the hashtag #GYMNASTICSHOWTO. I want to hear from you!
Special thanks to TNT Gymnastics and Fitness.
Leave a Reply
2 Responses to " #GymnasticsHowTo: How To Hold a Longer Handstand "
Kendrima Says:

How to hold a longer hand stand

Kendrima Says:

Thank you