How To Perfect Your Split Leap
Author: Shannon Miller Lifestyle
December 21, 2017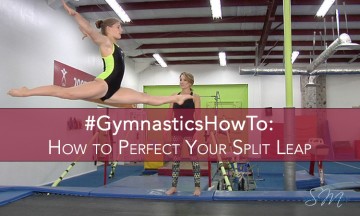 A split leap is the epitome of beauty in the sport of gymnastics.
A simple leap can take years of hard work and dedication. You have to work on your oversplits, timing, and constantly remember numerous corrections during a skill that takes literally a split second (pun intended). The trick to this skill, and most gymnastics skills, is to take all that hard work and effort and make it look effortless for the judges.
We don't just want to perform a split leap, you want the judges to sit up and take notice. You want to stand out from the crowd with that picture perfect moment in the air. (Think Nastia Liukin!)
In this video, I'll go through the details of a split leap that will make the judges pencils stand still and their jaws drop. I'll show you some drills you can work on at the gym and at home that will help you master this critical skill.
If you've ever wondered how you can add few tenths to your score or make a statement within you routine make sure to watch this video! As a gymnast, analyst, commentator, gymnastics fanatic, and daughter of a judge, I know what it takes to stand out during a routine and the split leap is one of those areas where you can really make a statement!
Give these drills a try and send me a pic of your best leap! Make sure to use #GymnasticsHowTo.
Any ideas or drills you'd like to see added? Or just comment below (or in the video comments on Youtube) to let me know some skills that you'd like to get some help with. If you're on social media, tag me on Twitter and Instagram @shannonmiller96 or Facebook @shannonmillerOfficial and use the hashtag #GYMNASTICSHOWTO. I want to hear from you!
Leave a Reply