How To Work Your Backbend
Author: Shannon Miller
September 14, 2017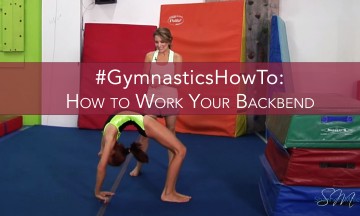 In this #GymnasticsHowTo video, I'll share with you the most important steps you need to take to begin preforming a solid backbend.
This move is essential to so many skills in this sport, so you want to spend some real time mastering it! Here we will look at how a gymnast should stretch the many body parts that are involved with this particular move including wrists, shoulders, quadriceps, stomach, hips, and back. Remember a backbend isn't just about your back. I'll show you easy moves that you can do at home or in the gym to get you moving in the right direction.
After you check out this How To Work Your Backbend video, tell me what you think! Any ideas or drills you'd like to see added? Or just comment below (or in the video comments on Youtube) to let me know some skills that you'd like to get some help with. If you're on social media, tag me on Twitter and Instagram @shannonmiller96 or Facebook @shannonmillerOfficial and use the hashtag #GYMNASTICSHOWTO. I want to hear from you!

Special thanks to TNT Gymnastics and Fitness.
Leave a Reply
One Response to " How To Work Your Backbend "
Talea Says:

Your video is excellent. You are a most incredible person. You have accomplished so much in your life and are a great inspiration. I am a 53 yr old grandmother. Thank you.