Perfecting Your Back Extension Roll
Author: Shannon Miller
March 13, 2017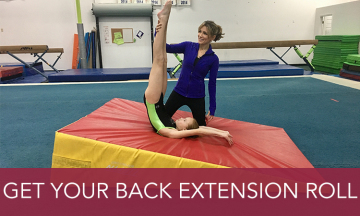 For the next few months we are headed back to the gym to answer some of your own gymnastics questions! I get a lot of messages from young gymnasts, parents and coaches asking me how to do and help improve certain skills. I want to make your needs a priority. So today we are going to cover the Back Extension Roll, how to get started and a drills to practice.
I am really excited to cover these today! This was always one of my favorite skills. It's also part of what made my Olympic beam routine so unique!  Check out my video here.
After you check out this Perfecting Your Back Extension Roll, let me know what you think! Any ideas or drills you'd like to see added? Or just comment below (or in the video comments on Youtube) to let me know some skills that you'd like to get some help with. If you're on social media, tag me with the hashtag #GYMNASTICSHOWTO. I want to hear from you!
Leave a Reply
One Response to " Perfecting Your Back Extension Roll "
Shirley Bourne Says:

My gymnast is very muscular and is not as flexible as most we are trying various stretching exercises along side the use of a balance ball. Can you give any further assistance please
Regards
Shirley Bourne