Count Your Blessings
Author: Amber Principe, SM Lifestyle
November 22, 2016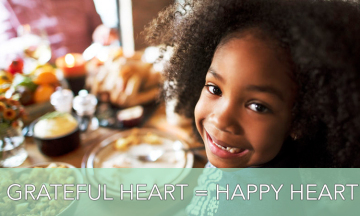 The month of November and the upcoming Thanksgiving holiday are the time of year when people begin thinking of things they're grateful for. But what if we counted our blessings throughout the year instead of just at Thanksgiving? People who have a more grateful attitude tend to experience less depression and more happiness. Gratitude also increases such traits as empathy and resilience. If you can make a conscious effort to start each day with a grateful heart, you will begin to see life differently, more positively. Focus, think, and talk more about what you do have and are able to do in life, rather than what you may not be able to do and the things you wish you had.
Take a few minutes to reflect; try to write a list or think of one thing each morning before you get out of bed or before you go to sleep each night. It could be big and exciting or it could be something so small that most people take for granted.
Maybe some of the below could be added to your list or help get those wheels turning:

A hobby or talent that you're good at or new skill you're learning
The laughter of your friends and loved ones
Your reliable vehicle
That morning coffee
A great teacher your child has at school
The fact that you were able to buy that new piece of clothing or pair of shoes
A working AC or heater in your home and car
The beauty of nature
When something you need at the store is on sale
Your health and the health of your family
A new addition to the family (baby/marriage)
Groceries in your fridge and cabinets
A family pet that brings your children joy and teaches them responsibility
Your source of income
A new friend that recently came into your (or your child's) life
Your education
Mistakes that you've been able to turn into life lessons
Your senses that smell and taste the yummy food
---
Ask the kiddos what they're grateful for and turn their ideas into holiday decorations for your home:
If you're trying to cook the Thanksgiving meal or clean the house, would you be grateful for these free, printable Thanksgiving Coloring Pages?
There is always something to be thankful for; let's try to carry out the "thankful season" all the way through to next Thanksgiving Day!
Leave a Reply