How to Find Motivation to Do Things
Author: Lauren Fox
May 30, 2018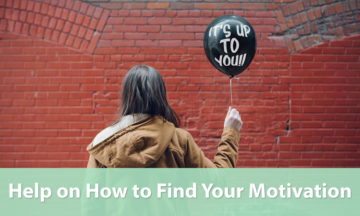 Although we know how important it is to do things that are necessary, sometimes it's hard to keep our motivation high.
For instance, we all know how important it is to exercise and eat a balanced diet, but between work, homework, soccer practice, cooking, cleaning, and that stranger known as a "social life", motivation can easily get lost.  So, the question then becomes: how do we find our personal motivation? Progress happens when you take those baby steps forward, each day. When you have a goal, it's the baby steps that keep you motivated and feeling a sense of achievement.
Progress equals happiness. If you want to have ongoing joy and fulfillment in your life, the secret is just one word – progress. -Tony Robbins
Ask Yourself: What Is My Goal Today/ This Week/ This Month?
Then write… it… down. Define your goal (i.e. to workout 3 days per week for at least 1 hour; to commit 30 minutes to extra sleep, organize my house each Saturday for 1 hour, etc.). You must first understand what you want to achieve, and that may require a bit of honesty with yourself. Once you know what you want, check out a few of these articles or interviews from Olympic Gold Medalist, Mom and Entrepreneur, Shannon Miller, on goal-setting to help you understand how to truly set goals! While some of these are based on certain topics, remember that goals come in all different shapes and sizes. Whether it's making an Olympic Team, achieving a clean and organized home, or maintaining your health, these tips can work for you!
If you know your goal, you know your progress, and progress and pride can act as a motivator in itself. For instance, you might think, "I've come this far and feel great, I wonder what I will feel like a month from now!" In other words, success breeds success.
Make Your Priorities a Priority
You can make a lot of excuses for yourself, but in the end, a little tough love might be all you need to get going. You KNOW if you are putting the things you need to get done on the back burner, but maybe you're doing that because you don't truly know why you are doing something! Maybe you don't know how to get started. It becomes that much harder to stay motivated and stick with something you might not have fully dissected as to your "why" and "how".  When you know why a particular goal is a priority to you, you can continuously remind yourself of this.  Maybe exercise is important to you because you feel better physically and mentally once finished.  Remind yourself of that post-workout feeling to get you going in the morning. And if you know how to get there, you'll be set up for success!
And Don't Forget Accountability…
Sometimes motivation is easier when someone else is helping. It's SUPER helpful to have an accountability partner. If possible, try to find someone to run, walk, go to the gym with, etc.  Have your sister ask you about when your next doctor's appointment is planned. But don't depend on someone to do the work for you; continuously work towards a point of mental toughness where YOU are the one holding yourself accountable. "I plan to go to the gym in the morning, so I'm going to make sure to get myself up early."
Plan, Plan, Plan!
Just like a football team needs a PLAN to score that winning touchdown, you need a PLAN for making your goal a reality!  If your goal is to lose weight or lower your cholesterol numbers, think about things like: What days of the week will be best to exercise…for me?  What times of the day work within my personal schedule?  What type of exercise should I do for what I want to achieve?  Should I talk to a trainer at the gym about creating a good workout plan?  What exercises can I do at home if I can't make it to the gym? (Try some of Shannon's 10 Minute Fitness videos on Youtube if you need a good place to start!)
Everyone has motivation! It's in you! You may just need some coaching on how to find it.   
Join Shannon each Monday in her new video series "Monday Motivation with Shannon Miller!" You'll start the week in a positive way, and hopefully that will help you tackle all the things you need to take on each day. Check out the first few videos on goal setting that dive into how to set a goal and the steps necessary to accomplish that goal!
Subscribe and tune in each week for a quick message to get the week off to the right start. Follow along and watch your life transform!
Leave a Reply