Today is National Stress Awareness Day
Author: Shannon Miller Lifestyle
November 4, 2016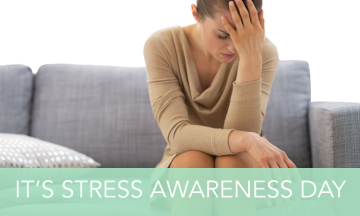 November 4th marks annual National Stress Awareness Day. Today is a reminder to honor yourself and start taking those necessary steps to ensure balance in your every day life. Between work, bills, kids, etc…life has a way of overwhelming you. Sometimes the best thing you can do to minimize the stress in your life is to plan ahead.
This could include…
1. Put money aside for emergencies (automotive or medical)
2. Make a budget and stick to it.
3. Prepare meals ahead of time. This can make a a radical difference if you're a college student on-the-go or a mom trying to juggle it all.
4. Dedicate a small portion of the day to exercise, even if that means a little conditioning. Giving up on exercise because you are too busy, can dramatically impact your overall mood as well as create stress about feeling unhealthy.  Even the busiest among us have at least 10 minutes in the day to set aside for themselves. Use 10 minutes to grab a mini workout that will reduce stress and energize your day.
5. Find those small things that bring you joy throughout the day. This could be a quote you hang in your office, a scented candle or maybe just a really good cup of coffee.
What are some ways you unwind or prepare for stress? 
Leave a Reply