Toxic Shock Syndrome
Author: Amber Principe, SM Lifestyle
October 20, 2016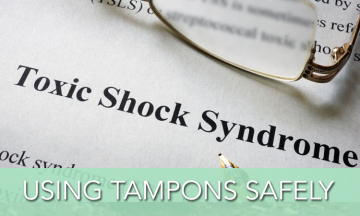 In 1980, the Centers for Disease Control and Prevention (CDC) investigators linked tampons to Toxic Shock Syndrome (TSS) after the initial outbreak of 55 reported cases. This outbreak was said to be caused by a particular brand of ultra-absorbent tampons that was later removed from the US market. Today, Toxic Shock Syndrome is rare: one to two in every 100,000 U.S. women of child-bearing age. However, this condition progresses rapidly and may become life-threatening.
TSS is caused by toxins that have been produced by one of the following strains of bacteria and entered into the bloodstream:
Staphylococcus aureus (staph) – naturally present in vagina and nose / most commonly related to, but not restricted to, use of highly absorbent tampons by menstruating women / increased chance for reoccurrence


Streptococcus pyogenes (group A strep), Toxic Shock-Like Syndrome (TSLS) –

not associated with tampon use, may occur in men, women or children / same bacteria found in strep throat / may result from skin infections due to a burn, bug bite, chickenpox, or surgical or postpartum wounds
The following are some common symptoms of Staphylococcal TSS (symptoms may vary with individuals): sudden fever over 102°F (38.89°C), fatigue, vomiting, diarrhea, dizziness or confusion, muscle aches, low blood pressure and a flat, red rash. One to two weeks after the onset, peeling of the hands and feet may occur. Although initial symptoms may seem similar to other illnesses, such as the flu, early diagnosis is crucial, as this condition could quickly become life-threatening if untreated. Contact your physician if you experience these symptoms. Intravenous  antibiotics would most likely be administered, and other treatments may be required, depending on the level of severity. It is extremely important  to maintain cleanliness of any wounds and always wash hands before and after tampon use or bandage changes. 
Regarding the Staphylococcus aureus (staph), studies show that prolonged absorption of a tampon is breeding ground for bacteria; it is recommended to change tampons every four to eight hours. This toxin (TSST-1 toxin) that develops in the buildup of bacteria can enter the bloodstream through the most sensitive, absorptive area of the female body, the vaginal walls. Dryness and microscopic tears or abrasions of the mucous membrane may occur during removal of tampons of a super-absorbency, especially when used during a lighter flow. Therefore, it is recommended to use the lowest absorbency of tampons that will meet your needs.
Because of how sensitive and permeable the vaginal lining is, using hygiene products coated with chemicals increases the risk of these toxins entering your blood stream as well, even without any tears or abrasions of the vaginal wall. Many tampons and pads contain dyes, deodorants, dioxins, and parabens, but there are also several companies that make 100% cotton (organic), dye and fragrance-free tampons. Other alternatives are reusable pads or a reusable silicone menstrual cup.
Below are four of the most common organic cotton, fragrance, and deodorant free tampons:
The Honest Company – Biodegradable, and 100% GOTS Certified Organic Cotton with a plant-based plastic compact applicator
Natracare – Certified organic 100% cotton, Totally Chlorine Free (TCF), biodegradable and compostable with a TCF cardboard applicator
LOLA – 100% organic cotton with BPA-free plastic applicator
Seventh Generation – Processed 100% totally chlorine free, certified organic cotton (absorbent material, cover, and string), water repellent wax (string), cotton (sewing thread)
In the end, even if you don't go "all natural" you can still choose wisely.
1. Remember to pick the absorbency based on your needs. Don't pick the "most absorbent" just so you won't have to worry about it.
2. Change your tampon often – at least every eight hours – and don't forget about the last one.
3. If you've had TSS previously, talk with your doctor before using any tampon.
Leave a Reply