Super Healthy Alternative Summer Recipes To Basic BBQ Dishes
Author: Lauren Fox
April 17, 2018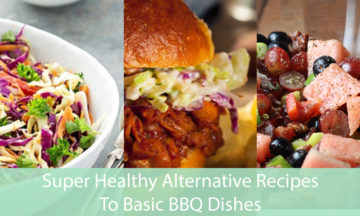 Spring is in session, Moms, and it feels like school is going to be out for summer pretty much any day now (kids start getting antsier than normal. Something in the air…). Are you wondering what happened to the first half of 2018 yet?
Because summer means languid sunsets in the fresh air, we wanted to dig up some lunch and dinner ideas that are perfect for dining al fresco. We think it makes family meals so much more fun when you get to eat outside together! And what feels more rooted in summertime family traditions than your go-to backyard BBQ? We curated some fun, healthy alternative recipes from Kailo Nutrition, Florida Coastal Cooking and Wellness, and Native Sun Natural Foods Market, and they all give a fresh twist to the family backyard BBQ.
What is jackfruit? We didn't know either… But so many apparently use it when unripe as shredded meat replacements like in tacos, and yep, BBQ! Some say it's a miracle food for it's potential impact on the world's agriculture outlook, but just don't sit under the jackfruit tree since the fruits can get up to 100 lbs!!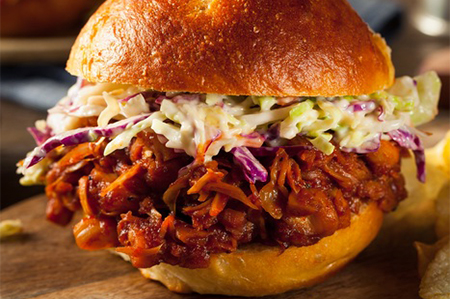 Recipe from Native Sun and by Kailo Nutrition. Makes 4 – 6 Servings.
Ingredients
2 cans jack fruit: drained, rinsed, chopped
1 yellow onion, sliced
4 cloves garlic, minced
1/2 c. vegetable broth or water
1 tbsp. maple syrup
1/2 lime, juiced
2 tsp. chili powder
1 tsp. cumin
1 tsp. smoked paprika
1/4 tsp. salt
Favorite BBQ Sauce
Preparation Instructions
Heat a large skillet over medium-high heat.
When hot, add 2 tbsp. water, then add the onions and garlic.
Sauté for 3 – 5 minutes until the onions have softened.
Add the chopped jackfruit, broth, maple syrup, lime juice, and spices to the pot and cover.
Reduce heat and let it simmer until the jackfruit softens slightly. 5 minutes.
Take a potato masher, and smash all the jackfruit up to get shredded texture.
Add in favorite BBQ sauce and let simmer for 5 minutes or until desired texture.
Kailo Nutrition is a local health and wellness business (with registered dietitians and chefs on staff) that hosts cooking demos in Native Sun stores. In the Jacksonville, FL area? Kailo Nutrition has upcoming cooking classes! Make sure to check it out since it's starts ASAP and runs for 5 Tuesdays.
---
Coleslaw may not be out of the box in your mind, but this one doesn't use ANY mayo! In fact, it uses lime juice, maple syrup, and cilantro, which is great for detoxing and ridding heavy metals!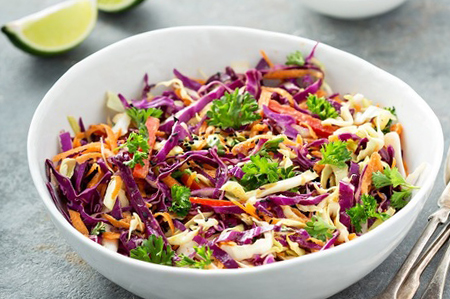 Recipe from Native Sun and by Kailo Nutrition. Makes 4 – 6 Servings.
Ingredients
3 Tbsp. fresh lime juice
1 Tbsp. apple cider vinegar
1 Tbsp. dijon mustard
2 tsp. maple syrup
1/3 c. green onion, chopped
1/3 c. fresh cilantro, chopped 1
1/2 c. green cabbage, shredded
1/2 c. carrots, shredded
1/2 c. purple cabbage, shredded
Salt and pepper to taste
Preparation Instructions
Add carrots, green cabbage, purple cabbage, cilantro and green onions into a mixing bowl.
In a small bowl, add lime juice, vinegar, mustard, maple syrup, salt and pepper. Mix.
Pour dressing onto slaw mix, stir and serve.
---
It was a major toss up between this perfect-for-summer watermelon salad or this sinfully rich S'mores Pizza. If you are going, "Yuck!" to the thought of watermelon and pepper (it IS good, but to each his own), then we have a feeling you'll want to check out this dessert pizza whose secret ingredient is cinnamon buns, but due to the fruit salad being much healthier, it won out!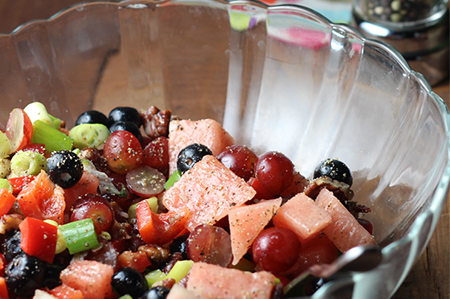 Recipe from Native Sun and by Dawn Hutchins with Florida Coastal Cooking and Wellness. Makes 4 – 6 Servings.
Ingredients
3 cups cubed watermelon
2 cups red grapes, halved
1 pint blueberries
2 Tbsp. chopped red onion
2 green onions, chopped
½ red bell pepper, seeded and chopped
¼ tsp. fresh ground pepper, or more, to taste
1/8 to ¼ tsp. coarse sea salt
½ cup pecans, chopped
Dressing:
2 Tbsp. olive oil
1 Tbsp. cider vinegar
1 tsp. Dijon mustard
1 tsp. chopped fresh rosemary
1 Tbsp. honey
Preparation Instructions
Add the watermelon, grapes, blueberries, red onion, green onion, bell pepper, black pepper, and sea salt to a large bowl.
Toast the pecans for 4 minutes under the broiler (check halfway and frequently to prevent burning).
Whisk the dressing in a small bowl. Pour over salad. Toss to coat.
Dawn Hutchins is the founder of Florida Coastal Cooking & Wellness. She is a Holistic Foods Chef, Plant-Based Lifestyle Expert, educator and cookbook author. She helps busy moms eat clean, kick cravings and raise healthy kids. The majority of her recipes are whole food, plant-based with a focus on reducing oils and sugars.
---
So what do you think? These are great to get out of your go-to BBQ rut… Try it, and let us know if you have any tweaks or recommendations for other families!
Leave a Reply