Swapping Out Junk Food for Healthy Food Cravings
Author: Murphy Stidham
May 9, 2017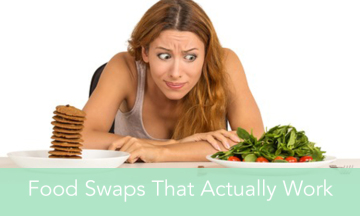 Do you struggle with trying to get your snacking under control? We understand the pressure. Sometimes it's hard to be convinced that a stick of celery will be a sufficient substitute for a chip, but this article has just the tricks! These irresistibly yummy recipes will make you crave these foods, instead of unhealthy foods. Chef Cathrine Pfeiffer, 23, has a few tips on how make those healthy foods trick your taste palates into thinking they are the forbidden fruit. These foods are not only what our bodies want, but what they need, too.
Spaghetti Squash
"So if you are like me and Spaghetti & Meatballs are your favorite food, and you can't stand to give them up… you must try this spaghetti squash pasta; it's a great substitute. The squash is very hearty and does not get smushy and soggy like spiralized zucchini does. It saves well in the fridge, so put it in a Tupperware, and eat from it for a few days. With the olive oil and seasoning, it does not even need a sauce but a little marinara or pesto never hurt."

– Chef Cat
Both pasta and
spaghetti squash
have low amounts of fat, salt, and fiber. Regular pasta has over 100 calories, while spaghetti squash has only about 20 calories. It has far fewer carbs than pasta's 31 grams plus it is very rich in protein! Creating vegetable spaghetti from spaghetti squash is simple and something your body will thank you for trying.  

Ingredients
2 Spaghetti Squash

Olive oil

Salt

Pepper

Garlic Powder

Italian Seasoning Blend

Rosemary

Onion Powder
 Instructions
Preheat oven to 350F.

Use a chef's knife to cut the squash from stem to bottom in half. They are very tough so make sure to be extremely careful. (I have the First Mate on my boat cut them in half for me every time…)

After you have cut the squash in half, with a metal soupspoon scrape out seeds and strings. (Like you are carving a pumpkin and cleaning out the insides. Don't take too much flesh though that's what makes the spaghetti.)

Sprinkle olive oil generously on the squash flesh side, now season with salt, pepper, garlic powder, Italian seasoning blend, rosemary and onion powder. (Again you can add as much as you like and more.)

Place squash on to a baking sheet hollowed out seasoned side down.

Bake in the oven for 45 minutes on the center rack.

Take out of the oven and flip over squash, they will be very hot allowed to cool for 5-10 minutes.

With two forks start to pull flesh of squash and like magic you have spaghetti. ("The First Mate taught me how to make spaghetti squash about 6 Months ago and I serve it to my crew and guests a few times a month and its still amazing everything you see the spaghetti. So Cool!" -Chef Cat)
Grilled Cauliflower Steaks
"The flavor from the grill gives you that Smokey char flavor you would be craving if you wanted a grilled burger, etc… Although with that said,  I usually pair grilled cauliflower with Filet Mignon and a baked sweet potato. The sweet potato and grilled cauliflower taste wonderful together."

-Chef Cat
According to
Mayo Clinic
, the recommended daily serving of vitamin C is between 75-90 milligrams. One serving of
cauliflower
contains 77 percent of that daily value! It's also a good source of vitamin K, protein, thiamin, riboflavin, niacin, magnesium, phosphorus, fiber, vitamin B6, folate, pantothenic acid, potassium, and manganese. This particular food will cover the majority of goodies that you find in your daily tablets!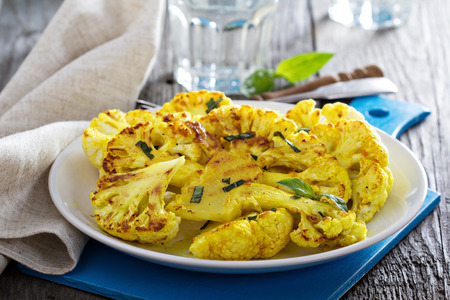 Ingredients
2 heads cauliflower

Olive oil

Salt

Paprika

Garlic Powder

Italian Seasoning Blend

Onion Powder
 Instructions
Preheat oven to 400F. Also, preheat your grill.

Set your cauliflowers stem side down. Slice down the center.

Then slice ¾" thick slabs – one from each half. Don't forget to save the extra florets to make something delicious for tomorrow like Cauli Mash or Cauli Fried "Rice".

Place steaks on to a baking sheet. Lightly brush both sides with oil.

Sprinkle both sides generously with salt, paprika, garlic powder, onion powder and Italian seasoning. (I love seasoning so add in as much you as you like, or as little.)

Bake in the oven for 15 minutes on the center rack.

Transfer to a hot grill. Cook for 5-10 minutes, until fork tender.
What's Not In It – Salad
"This salad is a great power salad, if you are wondering around your kitchen looking for a snack, scoop out a half a cup and munch on that. It will satisfy your hunger and all the flavors will keep it interesting for you rather then just a few carrots or celery sticks. The salad keeps in the fridge for a few days so its great to come back to. Chop some romaine or make some quinoa and put a scoop on top of that. Grill some chicken or pan sear some fish and eat your What's Not In It salad on the side."

-Chef Cat
Most of the fiber in
chickpeas
is insoluble fiber, which is great for digestive health. Individuals who eat them typically have better blood sugar regulation since chickpeas are so high in fiber and protein. Chickpeas are a great source of both soluble and dietary fiber, these are vital parts of maintaining a healthy digestive system. We are talking lowering the absorption of cholesterol into the bloodstream and helping to maintain blood sugar levels, which may help to reduce the risk of developing heart disease and also aid in managing diabetes. The dietary fiber in chickpeas and their low glycemic index (GI) can also help you to lose weight! They make you feel fuller for a longer period of time, which will decrease your snacking intake. These little tricky peas are a clever food to help you on your journey to healthy living!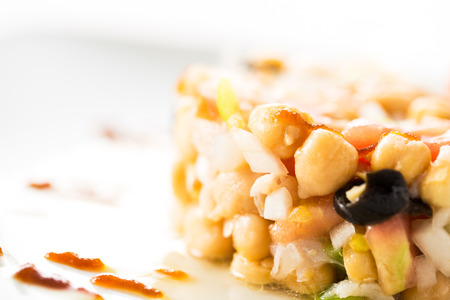 Ingredients
2 cans Chick Peas (15.5oz)

1 can black olives (15.5oz)

1 cup celery small diced

1 cup cucumber small diced

1 cup red onion small diced

1 cup orange and red bell pepper small diced
 Salad Dressing
1 cup Olive oil

1 whole lime squeezed

1 whole lemon squeezed

1 tbs Salt

1 tbs Pepper

1 tbs Garlic Powder

1 tbs Italian Seasoning Blend

1 tbs Dill (love Dill, ok maybe 2 tbs?)

1tbs Onion Powder

Handful of parsley finely chopped
 Instructions
In a large bowl begin to add veggies, drain and rinse chickpeas then add to bowl.

Drain black olives and cut in half. (I love olives so I want a large piece in each bite.)

Now small dice for celery, cucumber, red onion, and orange bell pepper and red bell pepper. (With the small dice you get a taste of everything in eat bite.)

For the dressing finely chop parsley and set to the side.

In a small bowl whisk olive oil, lime, lemon, salt, pepper, garlic powder, Italian seasoning, dill, onion powder and chopped parsley.

Your salad is ready, store in a big Tupperware or Ziploc bag. You will need to shake or mix your salad every time you go in for a scoop or two, as the dressing will settle.
Avocado Hummus
"This is a great snack for a girls or guys (hehe) wine night… put this out with other snacks for Sunday football or any other time you are entertaining. Don't forget the more appealing you arrange the platter, the more friends are drawn to go for something new rather then the same salsa you have on the same counter top."

-Chef Cat
Also known as an alligator pear or butter fruit, the 
avocado
is the only fruit that provides a substantial amount of healthy monounsaturated fatty acids (MUFA). That's right, we said HEALTHY FATS. They are also full of fiber. Avocados are a naturally nutrient-dense food and contain nearly 20 vitamins and minerals. They contain four grams of protein, that makes them the fruit with the highest protein content! Fun fact about avocados, you can feed them to your kiddos- including your babies! They are very baby friendly. So snack on, for the whole family.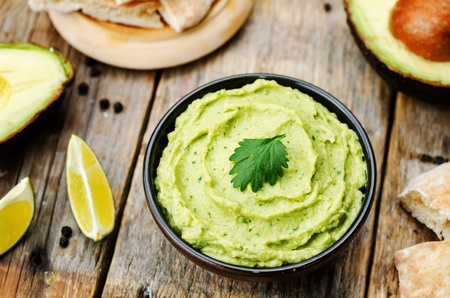 Ingredients
1 avocado

1 can Chick Peas (15.5oz)

1 handful cilantro

2 garlic cloves

1 teaspoon cumin

1 teaspoon red pepper flakes

½ teaspoon salt

3tbs lime juice

4tbs water
Dipping Sticks
Celery

Bell pepper

Carrots
Instructions
Add all ingredients in a food processor and blend til smooth.

Scoop out hummus into a serving bowl, add a few dashes of paprika, celery salt, cracked pepper, drizzle olive oil and balsamic on top.

Serve with bell pepper sticks, celery sticks, carrots… or any other veggie you feel like dipping in this yummy hummus. Don't let the color turn you away! Have a bite!
Fresh Fruit
"Watermelon is so refreshing and tastes amazing with the addition of fresh squeezed lime. I have made melon non-likers into lovers with this revelation that I was taught in high school. Keep it cold for a crisp and quick snack."

-Chef Cat
Eating plenty of
fruits
and veggies may help reduce the risk of many diseases. Seriously, that dose of daily watermelon or bananas can help to prevent scary diagnoses like heart disease, high blood pressure, and some cancers. Fruits and veggies are also rich in vitamins and minerals that help you feel healthy and energized. Let's face it, everyone needs a dosage of sugar to get them through their day… even though when we think of sweets we think of chocolate, candy, desserts, etc. Honeydew is a great substitute! Most of the 60 calories in a serving of honeydew come from its 14 grams of natural sugar. However, unlike cake, honeydew is low on fat. In fact it has less than a gram per serving.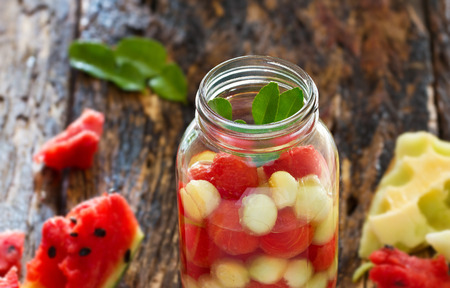 Ingredients
Watermelon

Cantaloupe

Honeydew

Lime
 Instructions
Cut up as much of each fruit that you would like. You can cut more and save in Tupperware to snack on the rest of the week.

Cut fresh lime and squeeze on as much as you want per piece. Just like that your world has been changed with the addition to lime on your fruit.
---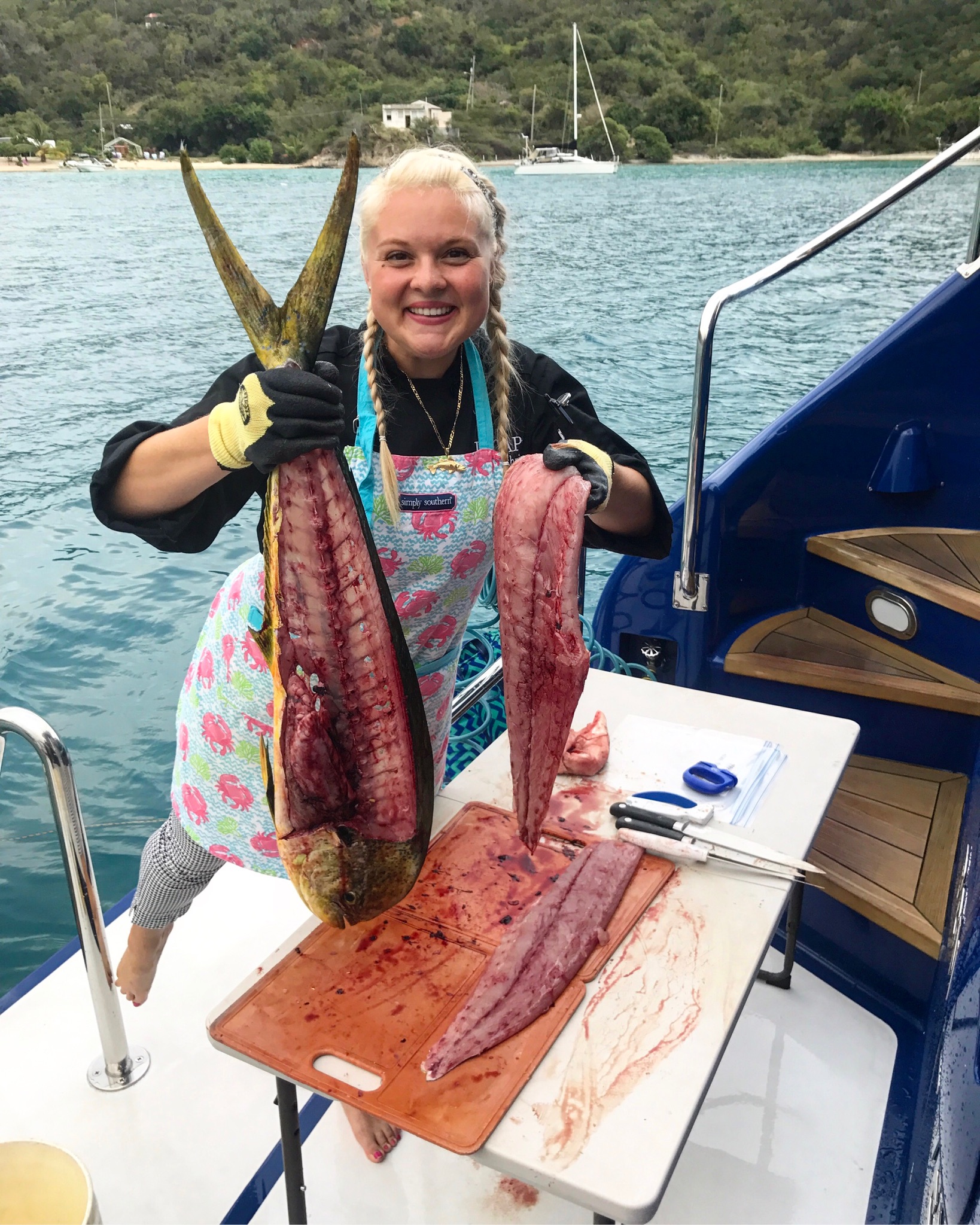 About Chef Cathrine "Cat" Pfeiffer
Executive Chef on Motor Yacht IL CAPO, Chef Cat, 23, provides her cruising guests with exceptional dining and southern hospitality while afloat all over the Caribbean. She is a recent Johnson & Wales graduate. Cats pure love of life radiates through her culinary compilations  and infectious personality. If you would like to contact her for inquiries, her email is cathrinepfeiffer@gmail.com.
Leave a Reply
One Response to " Swapping Out Junk Food for Healthy Food Cravings "
Cyndi Says:

The two of you together make an incredible team! I look forward to seeing future compilations.

Love you both,
Aunt C