Inside Scoop: Why I Wrote It's Not About Perfect
Author: Shannon Miller
April 21, 2015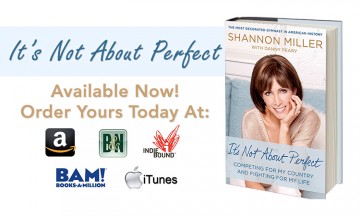 Many of you have seen the countdown and may have heard a little bit about my new book It's Not About Perfect: Competing for My Country, Fighting for My Life. Well, today is THE DAY!!! It has been years in the making, and I'm so excited to actually see it on bookshelves.
I am so thankful to all of those who gave me the courage (and sometimes a good scolding) to finally write the "real" book. I never planned to write a memoir, particularly at this time in my life when I feel I have so much left to do. I had written a short story (or a long blog as it were) for my website on the heels of my chemotherapy. It was therapeutic to write and helped me face each day to think that I could possibly help others through their difficult journey by writing about my own.
Talking with other survivors, hearing their stories and learning a few ways to deal with treatments had helped me so much. I wanted to keep that going. I wrote about lessons learned through sport that helped me during my battle. Everything from my faith to goal setting to keeping a positive attitude during even the most trying times.
As more and more people began to read this blog, I continued to be asked, "When are you writing the real book?" Lol. Well I hadn't even thought about it. However, the seed was planted, and after learning that I was expecting baby number two after ovarian cancer, my little miracle, I decided it was time.
In this book (yes, the "real" one), I expand on my initial writing adding in quite a bit more regarding my childhood and growing up in the sport of gymnastics. I relive some of the most amazing moments of my career but also some of the toughest. I share a side of me that not a lot of people probably see. I talk about the shock and confusion of learning I had cancer at age 34 just over a year after having my first child.
What I have gone through in my life is not special to me. We all face obstacles and barriers to success in our health, family, and work. The lessons I have learned through sport have been the most important of my life, and I use them every day whether it's battling cancer, fighting with the washing machine, running my company, or trying to be a good wife and mother.
If you're a gymnastics fan, I hope you enjoy the walk down memory lane. If you are someone going through a difficult challenge health or otherwise, I hope you will gain strength and inspiration in knowing that you can succeed. And I am sure some will simply enjoy the story of a little girl that dreamed big and won.
The title, It's Not About Perfect, has become the theme of my life post cancer. Before that it seemed everything was about perfection; the perfect toe point, perfect landing, perfect score. I could never achieve the perfect hair or perfect look. We put so much pressure on ourselves to always do and be perfect. And while striving for perfection is admirable, I believe the most important thing is to wake up each day and give it your all. These days I am focused on being healthy and happy. I want to enjoy the ride and live life to the fullest.
You can pick up your copy of It's Not About Perfect at any of the fine retailers below or at your local bookstore:
Enjoy!
(And don't forget this is a wonderful gift for Mother's Day!)
-Shannon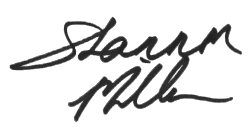 Leave a Reply
One Response to " Inside Scoop: Why I Wrote It's Not About Perfect "
bablu Says:

dear Shannon,
you are junior than me in age.i love gymnastics since 1975 or more.i know you for decades.you are among my favorite gymnast.will you visit my country.
please reply soon.
regards
bablu