Shannon Miller & The U.S. Gymnastics Team on ABC's "Celebrity Family Feud"
Author: ABC Media Relations: Marsha Smith
September 5, 2017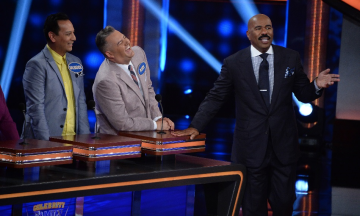 …RENOWNED ATHLETES FROM THE U.S. GYMNASTICS TEAM AND THE U.S. OLYMPIC SWIM TEAM ON ABC'S "CELEBRITY FAMILY FEUD"
For additional "Celebrity Family Feud" photos, please click here.
"Faith Evans vs Ross Mathews and USA Gymnastics vs USA Swimming" – The celebrity teams competing to win cash for their charities feature the families from multiplatinum Grammy Award-winning recording artist Faith Evans and television personality Ross Mathews. In a separate game, legendary Olympians from the U.S. gymnastics team will take on celebrated athletes from the U.S. Olympic swim team. This episode of "Celebrity Family Feud" airs SUNDAY, SEPTEMBER 24 (8:00-9:00 p.m. EDT), on The ABC Television Network.
Steve Harvey, the highly popular stand-up comedian, actor, author and Emmy Award-winning game show host, will pit celebrities and their families against each other in a contest to name the most popular responses to a survey-type question posed to 100 people.
The celebrity teams who will try to guess what the "survey said" are:
Faith Evans – Multiplatinum Grammy Award-winning recording artist, songwriter, arranger and record producer; playing for Pacer
Chyna Griffen – Faith's daughter
Christopher Wallace – Faith's son
Helene Evans – Faith's mother
Joshua Russaw – Faith's son
VERSUS
Ross Mathews – A television personality who got his start on "The Tonight Show"; currently an E! Red Carpet staple and co-host on "Hollywood Today Live"; playing for the Palm Springs Animal Shelter
Taya Faber – Ross' friend
Salvador Camarena – Ross' partner
Gaye Louise Mathews – Ross' mother
Boni Bernice Killion – Ross' aunt
In another game of "Celebrity Family Feud," the two contesting teams are:
U.S. Gymnastics Team – playing for the Boys and Girls Club of America
Shannon Miller – The most decorated U.S. gymnast at the Olympic Games with seven medals, including the 1996 team gold and balance beam gold, the 1992 all-around silver, and more
Dominique Moceanu – Part of the first U.S. Women's Gymnastics Team to ever win Olympic gold in 1996 and doing so at just 14 years old, she remains the youngest U.S. gymnast ever to win a gold medal
Paul Hamm – Three-time Olympic medalist in 2004, winning the all-around gold, team silver and high bar silver
Morgan Hamm – Olympic medalist in 2004, winning the team silver
Dominique Dawes – Three-time Olympian, four-time Olympic medalist and first African American to win an Olympic gold medal in gymnastics
VERSUS
U.S. Olympic Swim Team – Playing for the USA Swimming Foundation
Nathan Adrian – Three-time Olympian with eight Olympic medals and five gold, including two in 2016, two in 2012 and one in 2008
David Plummer – Two-time Olympic medalist, winning gold and bronze in 2016
Connor Jaeger – Two-time Olympian and silver medalist in 2016
Elizabeth Beisel – Three-time Olympian and two-time Olympic medalist, winning silver and bronze in 2012
Allison Schmitt – Three-time Olympian and eight-time Olympic medalist, including gold in 2016 and three gold medals in 2012
"Celebrity Family Feud" is produced by FremantleMedia North America and is taped in front of a live audience in Los Angeles, California. Gaby Johnston and Jennifer Mullin are executive producers.
*COPYRIGHT ©2017 American Broadcasting Companies, Inc. All photography is copyrighted material and is for editorial use only. Images are not to be archived, altered, duplicated, resold, retransmitted or used for any other purposes without written permission of ABC. Images are distributed to the press in order to publicize current programming. Any other usage must be licensed. Photos posted for Web use must be at the low resolution of 72dpi, no larger than 2×3 in size.
ABC Media Relations
Marsha Smith
(818) 460-6605
FremantleMedia North America
Emma Harvey
(818) 748-1236
emma.harvey@fremantlemedia.com
Photography will be available at www.disneyabcpress.com or at (818) 460-6611.
Like and Follow "Celebrity Family Feud" on:
Facebook: https://www.facebook.com/FamilyFeudABC
Twitter: https://twitter.com/FamilyFeudABC
Instagram: https://www.instagram.com/familyfeudabc/
Hashtag: #CelebrityFamilyFeud
— ABC —
Leave a Reply