4 Ideas to Think Outside the Standard Summer Camp Box
Author: Lauren Fox
May 25, 2018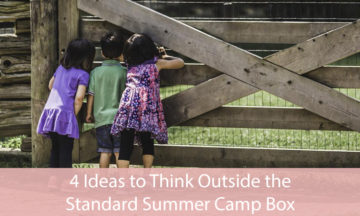 There are so many memories to be made during summer camps. For many, the smell of a campfire and the sound of crickets chirping might bring them back to their summer camp in the woods… But if the thought of something like that (sending your child into the woods with lyme-infested ticks and spotty cell service) makes you cringe, we get it. It can be so nerve wracking that it might just not be worth the anxiety. Or you may just want your little one to expand their horizons and get out of a one-sport-rut (i.e. they only like dance, basketball or soccer).
It may or may not be too late to enroll your kiddo in some summer camps, but don't worry, there are still TONS of options for your little ones to get squared away for a fun camp experience, maybe even one outside your normal comfort zone.
Here are a few not-so-typical summer camps that you should really consider, but keep in mind there are SO many more! Check out a list like this one from Jax Mom's Blog to see more inspiration from craft camp to science camp.
Music Camps
"Even the youngest infant is wired to receive music and discriminate among differences in frequency, melody, and stimuli" (source). One mom from Team SML recently took her 11 month old daughter to a music class with Music Together, and both mom AND baby loved it!! Really, children of all ages could benefit from social interaction with kids their own age while singing, being hands-on with multiple musical instruments, and learning about rhythms and different tonalities; a musical summer camp is so much fun and could push your sport-lover to try something different.
Marcia Winnard, Director & Teacher of Jax Music Together, share that "Music is for everyone! Anyone of any race, age, or physical and mental capability benefits from music. I've seen it with my own eyes!" To read some amazing, heartwarming testimonials, check them out here!
To find a Music Together camp series, go here.
Summer Camp Kids Cooking Classes
"I let the oatmeal sit for two extra minutes to make it creamier. Because I love creamy oatmeal!" This is what popular wellness blogger Heather the Mommypotamus's newsletter has described her seven-year-old saying. Can you imagine your seven-year-old helping you in the kitchen or does that thought make you laugh out loud? Try a cooking e-course for kids like Kids Cook Real Food. Like Heather, you may discover that your kids can do A LOT more for themselves than you would have guessed, but you will also get to see your child learn life-long lessons about food and nutrition… all while spending some quality time together.
Prefer a brick and mortar location to get your kids OUT of the house (we love them, but hello, Needed Break!), try a cooking camp or school. Per a description on Jax Mom's Blog: "During week-long camps at The Jax Cooking Studio, kids practice culinary skills and work in teams to cook the day's recipes. Diverse themes and concepts of math, chemistry, team-building, world cultures, geography, sustainability, and nutrition are woven into interactive discussions." This would apply to many cooking camps, even those classes given by your local supermarket like Publix, if you're in the Southeast.
Camps for Animal Lovers
At various Humane Societies or local pet shelters, there are wonderful camp options. The Jacksonville Humane Society Camp for Kids in rising grades K-8 will give your child a week of hands-on animal activities including dog training, bottle feeding kittens and helping promote animals for adoption.
If you are lucky enough to have a conservation area or a zoo nearby, this is an amazing opportunity! Much cheaper than a flight to Africa… For example, summer camp at White Oak Conservation, where campers ages 8 – 17 explore White Oak's conservation breeding center for endangered species for a week-long journey in STEM education, exploration and fun. It's not everyday where one gets the chance to get close to amazing species like rhinos, cheetahs, okapi while they learn from leading experts in veterinary care, wildlife conservation and more.
Outdoors in Nature Camps
Do you live near the ocean? Look into a marine biology summer camp like the Fiji Shark Studies program from Broad Reach where your child can literally swim with the sharks while learning all about the marine ecosytem and conservation efforts. Broad Reach has AMAZING adventure camps and classes for kids starting in middle school and on.
Not looking to spend quite as much coin as an exotic camp adventure? Try a surf camp! You get a lot of the benefits of having your child learn from someone who loves the ocean, can teach them about body awareness and balance, and your little gets to learn a new skill! Jax Surf Camp hosted by Jax Surf & Paddle also has other activities throughout the week that might include paddleboarding, yoga & stretching, relay races, beach sports, races, exercise, and classroom style whiteboard sessions.
If the ocean isn't an option, find a farm close by, an arboretum, or even a gardening center. For instance, Celestial Farms on the First Coast has programs where the young kids learn to collect eggs and the older ones work with the large animals. This type of immersion in nature is sure to get even the most passive of couch potatoes out in the fresh air.
---
Have some better camp ideas that your kids liked? Please share below! We'd love to hear what your family liked the best for summer camps besides the typical sleep-away or sports summer camp (which are still perfectly fine might we add). Enjoy the summer break!
"It is not what you do for your children, but what you have taught them to do for themselves that will make them successful human beings." ~ Ann Landers
Leave a Reply