Best Healthy Snacks for Your Kids
Author: Sheri Birchwood, RDN
October 14, 2015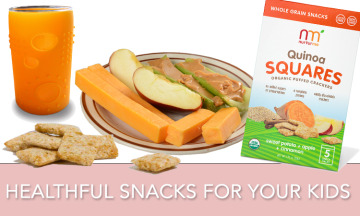 Giveaway Alert! Keep reading all the way to the bottom to see what we're giving away – FOR FREE!
Healthful Snacks Help Make Healthy Kids!
Sheri Birchwood, Registered Dietitian Nutritionist, gives us some insight on treats versus snacks and how to make our children's snacks more healthful.
We all know our children need a steady supply of energy to support healthy growth. We want to ensure they are getting the nutrients their bodies need. At the same time, we want to avoid feeding them so many calories that weight becomes an issue.

 With this in mind, many parents ask, "What snacks are good for my child?" The answer is to choose fewer "treats" and lean more toward healthful snacks. What is the difference between the two? While treats are tasty, they are often high in fat, sugar, and various additives, but low in important nutrients. Healthful snacks, on the other hand, provide essential nutrients without excessive sugar or fat.
Examples of "treats" to limit: cookies, chips, candy, pudding, gelatin, ice cream, cupcakes, or sugar-sweetened beverages including fruit juice with added sugar
.
Examples of healthful snacks: fruits, vegetables, quinoa, whole grains (granola bars, dry cereal, whole grain crackers, etc.), yogurt, milk, or 100% fruit juice.
New, exciting healthy snacks for kids are becoming available for parents who desire healthy development for their children. Quinoa-based snacks are one such example, and for good reason. Quinoa provides many benefits. It is a complete protein, provides Omega 3, 6, and 9 fatty acids to help with brain and eye development, and is a great source of fiber. Another great characteristic of quinoa is that it is hypoallergenic. It does not contain gluten, soy, or dairy, so it is safe for those children who have such allergies or sensitivities. If you haven't tried NurturMe's Quinoa Squares, they're fantastic, and a good choice especially when you're on the go and need a mess-free, fuss-free snack.
Try these simple ideas for healthy snacks for your kids:
• 1 whole grain cereal bar + water or milk
• 1/2 cup applesauce + 10 small pretzels + water or milk
•  5 whole grain crackers + 1 tablespoon peanut butter, spread thinly + water or milk
•  1/2 cup sliced raw vegetables, such as carrots, celery, or bell pepper + 1 tablespoon light salad dressing + water or milk
•  1/2 cup fruit (chopped strawberries, apple slices, or 1/2 banana) + 1/2 cup low fat yogurt + water or milk
• 2 graham crackers + 1/2 banana + water or milk
• 4 whole grain crackers + 1 slice cheese + water or milk
• 1 package  (or serving size) of your favorite pre-packaged healthy snack such as 
NurturMe
's Quinoa Squares
Whatever healthy options for your kids you choose to feed your children, you're sure to find foods they will not only love, but their growing bodies will greatly appreciate!
Notes:
– Children 2 to 3 years of age will need smaller portions than what is listed above. 
– To prevent choking in children under 4 years, cooked vegetables would be better than raw, and soft fruits should be given instead of grapes or large hard fruit pieces.
– For more information on the virtues of quinoa, check out this Q&A with Dr. Laura Jana.
– Some GREAT quinoa recipes from NurturMe are located here!
---
We have a gift package for one lucky winner!
A Full Variety Gift set of NurturMe Quinoa Snacks (Value of $55!) consisting of the following:
4 bags organic quinoa baby cereals
1 pouch each nurturmeal blend + NurtuReal quinoa
4 yum-a-roo toddler snacks
1 re-useable eco pouch
1 BPA free baby spoon
1 coupon
1 informative quinoa bookmark
AND
… to keep your snacks fresh, and your children safe: A gift package  valued at $50 of assorted Silikids items. Silikids, Inc. is the first mom-founded brand focused on creating products that are safe, modern, and made entirely out of SILICONE (not plastic!!), and are leading the way in Silicone products for kids.
Enter Via The Rafflecopter Below!!
Leave a Reply