Going Irish for St. Patty's Day: Recipe and Crafts Ideas for The Family
Author: Shannon Miller Lifestyle
March 13, 2018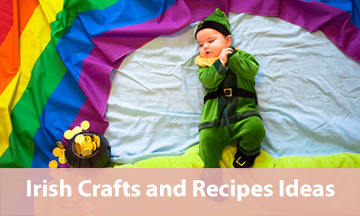 St. Patrick's Day is coming up this weekend, and sure, it may look a little different for parents than it used to in their younger glory days in college, but it doesn't mean the fun has stopped! Now St. Patrick's Day is another holiday to make memories with your little ones and family, and holidays are great ways to teach your kids about other cultures and their customs; in this case, it's all about Ireland!
So, not only did we round up some of our favorite ideas from Pinterest that you can do with your children in honor of St. Patrick's Day, but we asked budding Instagram fashion blogger and American-Irish fashionista mother of two, Alicia Hughes, what does a true, authentic St. Patrick's Day look like in the place where it all started?
How is St. Patrick's Day celebrated in Ireland?
There are parades all over the country, and people go out to watch them with their families. And obviously the pubs are jammed. No green beer though! People pin shamrocks to their shirts, too.
Do you do anything fun with your kids specifically for St. Patrick's Day?
The parades are mainly for the children. And people dress up, wear green, and rock funny hats/glasses.
What is something easy that an American mom can do to have a little touch of Irish in the house in honor of St. Patrick's Day?
The shamrocks are a big thing. Also just putting up green stuff, decorations, and Irish flags. It's a day to celebrate Irish culture! Like an Irish 4th of July almost…
What is the best recipe or blog you've found since living there that screams Irish?
For blogs and websites, I love Pippa O'Connor! She is an Irish model and blogger. I also love U magazine; it's all Irish, like an Irish Cosmo.
For food, an Irish stew never fails: coat chopped beef/lamb in salt and pepper and flour. Brown it in a big pot. Add carrots, onions, and potatoes. Add stock and cook until vegetables are tender.
There's bacon and cabbage, too. You boil a ham, and then add potatoes and cabbage to it until all tender. Usually, you then fry off the cabbage in butter. (Note from the editors… this is not for "healthy time"! It sounds divine though!)
Now for some fun ideas found by Team SML!
 Fun, Craft Ideas with Kids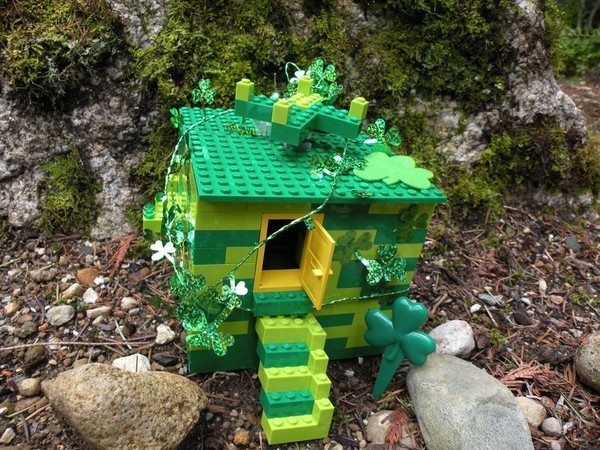 Source: Pots & Pins
 If you have a LEGO lover in your house, make a little Leprechaun trap (or house to escape from the cold if you want to be nice). Head over to Pots & Pins not only to see more pics of this cool "trap", but also ways to LURE the leprechaun into it! (Hello, Lucky Charms!)
 Don't miss out on this full list of crafts to do from Livingly! Check it out HERE. 
Authentic Recipes with a Twist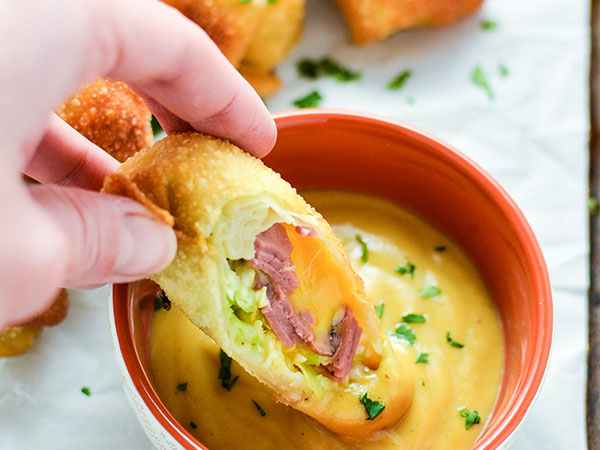 Source: Cooking and Beer
Corned beef and cabbage every year can get old, but with this fun twist on the Irish classic from Cooking and Beer, these corned beef and cabbage egg rolls WILL be a hit! Pair it with homemade beer mustard, and you will feel so fancy. It only takes an hour to make though!
 Check out more recipes to try HERE! 
Last but not least, if all this researching and trying out the Irish lifestyle makes you up and want to pack your bags, remember there's also a flip side to the coin! We asked Alicia one last question so we didn't turn green with envy…
Q: What's one (or a few!) things you miss from back home?
Taco Bell
Corn dogs
Proper cold medications like NyQuil
Mexican food
Margaritas
Free parking
Sephora
The general convenience of American life sometimes to be honest. Americans sometimes forget that everything is just right there that you could want! And not to mention, I miss decent WiFi that doesn't constantly mess up.
Maybe the grass isn't always greener, but we do agree that Irish families know how to have a fun St. Patrick's Day! Enjoy the holiday weekend, and tag Shannon and SML in any of your pics you tried from here: twitter, Facebook, Instagram.
Leave a Reply