Keeping Your Kids Healthy While in College
Author: Logan White
June 21, 2018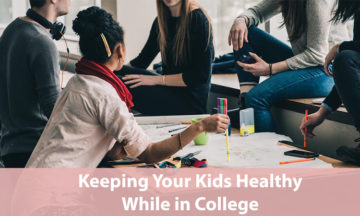 We hear all about The Freshman 15, but what about the many young adults that LOSE  weight while in college (and not always in a healthy way)? And of course, more important than weight is the overall health of our college kids.
This is likely the first time your baby — check that teenager —is away from home for an extended period. For them, it's a time of activity and excitement. It's also a time that can be stressful.  As parents we are concerned with their well-being. However, without being there to set doctors appointments, prepare food, and generally "take care" of them, we often need a bit of help letting go but also making sure they have the tools they need to focus on their own health.
So, we're bringing you the inside scoop from our very own SML intern, Logan White, who is deep in the trenches of undergrad right now! She'll give you tips on how she thinks it's totally possible to keep your kids healthy while away at college.
____________________
With summer approaching, many parents are facing the reality of their graduating high school seniors leaving home to head off to college. Nowadays, college is seen as a milestone in our lives wherein we are faced with managing coursework, controlling social lives, and scheduling our own doctor's appointments.
As a current second-year student at the University of Florida, I have experienced the struggle of managing my own schedule. Although college students procrastinate on numerous aspects of life, one major victim of procrastination today among college students is our health and well-being.
In the midst of an intense college workload, college students, including myself, can often forget the importance of physical activity and a healthy lifestyle. This is especially true for those students who invested in a meal plan and have found the dessert bar at their closest dining hall to be a source of comfort and stress relief. Regardless of the infamous "Freshman 15" that strikes fear in the hearts of those entering college, on college campuses across the nation, countless programs and activities are put in place to ensure the physical and mental well-being of students- it's simply up to students as to whether or not they will take advantage of the resources.
Activities and Fitness for College Students
One program I have found on campus that does a great job of encouraging students to stay active is intramural sports. Over the course of my freshman year at UF, I was a member of an intramural ultimate frisbee team in addition to being the captain of a dodgeball team. Participating in these sports was not only a fun way to stay active with my friends, but it was also a way to meet new people who had a shared interest in remaining healthy while experimenting with a new hobby. From football to Quidditch (the sport described in the Harry Potter novels), students can easily find a sport to participate in for a healthy dose of fun with a side of friendly competition!
Beyond intramural sports teams, many schools give their students the option to work out for free at any of the fitness centers created specifically for students. Many of these centers feature a wide variety of unique exercise equipment that students can take advantage of. Beyond this, certain gyms offer fitness-focused classes for students. Activities such as yoga and kickboxing are taught by certified instructors to help students experiment with new activities while getting out of their comfort zone. And if that isn't for you, there's always "outside-the-gym ways" to keep active. For example, at the University of Florida, there is a club that is dedicated solely to salsa dancing! The Gator Salsa club serves as a prime example as a collegiate activity that can be based around both fun and fitness.
Photo from The Gator Salsa Club Facebook Page
College Eating Habits
A major aspect of health for everyone, not just college students, is what you're eating. The culinary landscape of a college campus is seemingly made up of countless Starbucks', a few Subways, and several dining halls. Although dining hall meal plans appear to give students plenty of both healthy and unhealthy food options, it is very easy to get stuck in the habit of eating pizza every day for lunch (not to mention over- portioning your food with the buffet). Simply because the healthier dining options are there for your student doesn't mean that your child will take advantage of the healthier choices that exist. Because of this, it is crucial that you encourage your child to experiment with better eating habits and explore healthier options.
Ways You Can Help
College students may seem to have everything under control, in reality we really don't. Here are a few super quick suggestions to help your student:
There are times when a simple phone call with our loved ones has the supernatural ability to motivate us to get out of bed after a three-hour nap and actually get work done. It's also great to check in on mental wellness and sleeping habits on a call, too. Sometimes it's better to talk it out rather than what might seem like nagging through texts.
What about a smart activity watch as a birthday, Christmas, or hey… a "just because I miss you" gift? The Apple Watch has these cool activity rings you try to close each day for standing, exercising, and movement. You can even friend your kid and compete with them every day to see who can close their rings first! There are others besides the Apple Watch though. Fitbit and Garmin make good ones, too, and every little bit of motivation helps.
Resist sending them junk food care packages! Once in awhile may be OK, but why don't you do health food store gift cards or a healthy subscription box like one from here? Better yet, send them non-food items altogether by searching for some Pinterest-inspired DIY boxes! It's easy to enable bad habits when you think it's a treat, but your child is likely having much more than enough "treats" while away from home.
Regardless of how far away your child might be from you while they're in college, as a parent, YOU have the ability to encourage your child to live a healthy lifestyle amidst the craziness. Ensure that your child is aware of the opportunities provided to them, and encourage them to take advantage of every resource out there. We may act like we have it all under control, but we secretly love when you still take the time to care for us!
---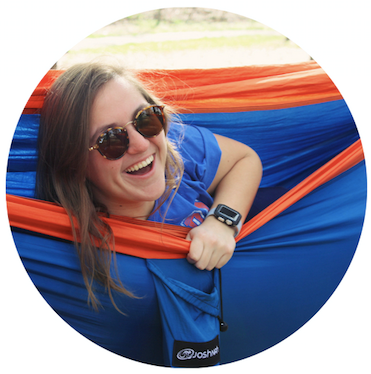 About the Author
Logan White is a current second-year Public Relations major at the University of Florida. As the SML intern, Logan hopes to assist SML in achieving its goal of making a positive difference on the lives of others through promoting a healthy and well-balanced lifestyle. Outside of the office, Logan enjoys spending her time outdoors, particularly in a hammock, in addition to going on adventures with friends.
Leave a Reply