Q&A with Carlee and Dash's Haley Horton
Author: Shannon Miller
April 18, 2017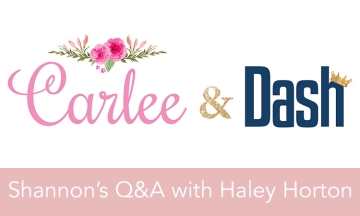 I recently talked with Haley Horton a University of Oklahoma women's gymnastics team standout, about her new company Carlee and Dash. Haley is married to another Oklahoma graduate; two-time Olympian, 2008 Olympic silver medalist and 2010 World all-around bronze medalist, Jonathon Horton. I had the opportunity to watch Haley compete for years and had the honor to commentate many of Jon's competition's including the 2012 Olympic Games! It is wonderful to watch these two as they continue to branch out beyond gymnastics. Jonathan has become a sought after motivational speaker, a ninja warrior (and back at it soon so stay tuned!), and continues to train in an effort to make the 2020 Olympic team! They are proud parents of two cuties and if you aren't following them on social media, you'd better start now.
When I heard that Haley had started a new business Carlee and Dash, I had to ask her all about it. (And we even have a treat for those who would like to check out these cute clothes! Use code SHANNONMILLER15 to receive 15% off your order!)

Q: I'm always interested in what inspires someone to start a new business. What was your inspiration?



A: My sister, Ashley, and I were inspired by all of the other hard-working, business-owning, child-raising mamas out there! We are blessed to be surrounded by many brave, smart, fierce women. We believe that support and encouragement from other women is crucial for moms, so from the very beginning we wanted to create a business that centered around a feeling of community. A business that provided a place where women could seek advice and encouragement from a huge pool of women ready to help!
Q: I love that so much! So, before we get into the business side of things, you have two adorable little ones. In fact, your son is just one day older than our daughter, Sterling. (Both will be 4 yrs in June) How have your kids influenced the way you run your business?
A: Having kids has influenced our business in many subtle ways, but none so much as the way it has shaped the way we view our customers. It can be really tough to be a mom in today's society! As moms, we often feel like the subject of criticism and judgement – that's why we feel so strongly about maintaining our "community" feel! We want moms to have a place to go to ask questions, get encouragement, and be supported without judgement. If they find some cute, affordable clothes for their kiddos here too, that's a bonus!
Q: In keeping with advice for all the mamas out there, how do you balance your work with your children's schedules?
A: One of the greatest things about running a boutique that's exclusively online is the flexibility! We work hard and we work a lot, but we have the flexibility to work around naps, soccer games, and gymnastics classes!
Q: Now that you've started a website, what do you hope to see for the future of your company? Do you see it expanding into a physical brick & mortar store?
A: We see some exciting things in the future for our company. My sister and I have discussed opening a physical store off and on for years. For now, Ashley lives in Dallas, and I live in Houston, so our goal is to grow our online presence and continue giving people all over the country an opportunity to be a part of the Carlee & Dash family!
Q: Carlee & Dash is about community but it's also about great clothes at an affordable cost. That's so important. Children grow out of clothes at an astonishing rate. It seems any time you buy something remotely expensive it gets worn once and then there's a sudden growth spurt! How do you choose your clothing options in order to look great and remain affordable? Is there anything specific you look for?
A: Choosing our purchases can be quite the process! For us to purchase a design, it must be trendy and BOTH Ashley and I must love it. We have fairly different styles, so this part can be tricky! We also try to select styles that are unique to C&D. After that, we make sure the final cost to our customers will be reasonable. Cost is important to us – we know how quickly children grow out of clothing! After an item passes both of those tests, we check for quality and durability. It's only then that a selection will make it to a photo shoot!

Q: What's your favorite thing about owning your own business?
A: My favorite thing about owning a business is also the scariest thing – the fact that it can be whatever we want it to be! We love that we can promote other small businesses, use our platform to support nonprofit organizations that are important to us, and of course, fill our children's closets with clothing that we love!
Q: What's one thing you wish you'd known before you started?
A: The most interesting thing we've learned since we started this business is how much and how quickly you must adapt! As a business owner, you're constantly making small decisions that affect the direction your business grows. It's been really fun to watch how much our business has changed from our original vision over the course of the 7 months we've been in business!
Q: What was the best advice you got concerning running your own business?
A: When my sister and I decided to start a business together, we were instructed on the importance of communication. Being part of a long-distance business partnership while making decisions that will affect our business makes constant discussion even more imperative!
Q: Are there lessons you learned in gymnastics that have helped you in starting your business?
A: Absolutely! Gymnastics played a major role in shaping me into the woman I am today. It taught me the value of persistence, the importance of paying attention to small details, and the necessity of goal setting and sacrifice (among other things). With regard to the way I operate this business, I would say that the persistent nature of my personality has served me well! Owning a small business, like many other things in life, is a roller coaster ride full of highs and lows. Through gymnastics I learned that success is often about staying persistent and riding the ride to the end!
Q: What is life like as a family with two incredibly accomplished gymnast parents?
A: Life in the Horton household is always a little crazy! 2016 was especially so. I gave birth to our daughter on February 9th of 2016 – just 3 days after Jon tore his rotator cuff (for the second time) and ended his run for the 2016 Olympic Games. That week was quite the emotional roller coaster for us! Jon has since had surgery, is working out at 100% again, and is traveling constantly both for gym visits and as a motivational speaker. He also found out this week that he'll have another shot at becoming the next American Ninja Warrior this season! As a family, it can be tough to juggle preschool parties, a small business, travel schedules, gymnastics classes, and the occasional date night, but we do our best! We are not perfect people or parents, and we believe it's best not to pretend to be. Life, marriage, and parenting are all complicated. They're full of twists and turns with high highs, low lows, and lots of stuff in the middle. We're grateful to serve a merciful and gracious God, and we're so thankful for our countless blessings!
Carlee and Dash offers a variety of stylish clothing for kids, to check out their apparel visit their website here. If you visit Carlee and Dash through Shannon Miller Lifestyle, use my check out code SHANNONMILLER15 to recieve 15% off your order.  Also make sure to follow them on Facebook and Instagram so you don't miss a thing!
Leave a Reply