Seven Ways a Smart Home Can Help a New Mom
Author: Jennifer Tuohy
December 30, 2015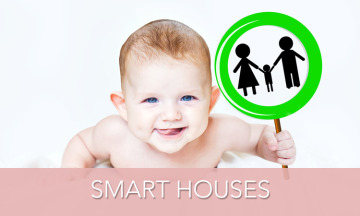 Jennifer Tuohy, a technology enthusiast tells our readers how a smart house can help new moms adjust to motherhood.
Despite the copious amount of reading you will do and advice you will receive, there is little a new mom can do to truly prepare for those first few months of motherhood. It is a time that will surprise, delight, terrify and change you in so many ways. Once that precious little bundle of joy arrives in your home, your whole world will turn upside down. However, thanks to modern technology, there are some systems you can put in place in your home to make that initial transition into motherhood a little bit smoother.
Today's houses are increasingly becoming "smart homes," where appliances, lighting, electronics and security systems are all connected to each other and the Internet. This allows you to control them remotely, and, in some cases, even allows them to control each other.
How is this good for a new mom? Because a smart home is the ultimate in convenience (and if there's one thing a new mom can appreciate, it's convenience). Simply put, anything that makes life easier for a new mom is worth its weight in gold.
Here's a look at some of the ways a smart home can help a new mom through those wonderful, delightful and sometimes terrifying first few months—and beyond.
1. Provide an Extra Pair of Hands
Install a smart door lock. Once you've actually ventured outside for that first trip to the grocery store with your new baby, let your front door unlock itself as it senses you and your linked smart phone approach. Pair a motion sensor situated by your front door with smart lights and have all the lights to turn on as you walk in, so when you're laden down with bags and that awkward baby car seat, you don't have to put anything down.
2. Prevent Interruptions
Sticking with the front door, a smart doorbell can be a lifesaver in preventing well-meaning interruptions. When you're in the nursery trying to soothe baby to sleep or engaged in the important work of feeding, the last thing you want to do is traipse to the front door. Of course, ignoring it isn't an option either because the incessant ringing of a doorbell is sure to disturb the baby and ruin all your good efforts. A video doorbell allows you to answer the door from your smartphone or tablet, see who's there, and even talk with them—all without disturbing baby. When paired with a smart door lock, you can unlock the door remotely once you've checked who it is, and let that well-meaning visitor in without leaving the room.
3. Create a Routine
The quest for a routine is often a futile and frustrating one for a new mom. After all, before baby came along, the word "routine" probably meant coffee first and then toast. But babies crave and thrive on routines, even while they rarely stick to them. A smart home can help a new mother's sleep-deprived brain focus on when it's nap time or eating time, or whatever routine you choose to implement to help you through the first few months.
The simplest way to do this is with smart lighting. Switch out the light bulbs in your living room and nursery for Wi-Fi enabled LED bulbs, and set up some simple schedules through their smartphone app. For example, you can have your lights flash every two hours to indicate it's feeding time, turn red when it's nap time or turn off at bedtime. This gives you a hands-free, visual reminder of the important parts of your baby's day.
4. Keep an Eye On Baby
A baby monitor used to be a basic two-way radio, through which every cry, snuffle and squeak prompted mom to jump out of bed or up from the dinner table and rush into the nursery. The advent of video baby monitors means you can take a quick peek and see if it was just a sleep sound or if baby really needs attention. Smart baby monitors go a step further, offering a live, high-definition video feed, with pan, tilt and zoom for when baby has wiggled out of view, and two-way talk so you can sing a lullaby between bites of still-hot pizza.
However, you don't actually need to get a dedicated baby monitor. You can invest the same amount (sometimes even less) in a connected security camera and get similar benefits. Connected cameras require a smartphone or tablet to view the feed, and they can be programmed to activate with sound and movement and send you a notification of the event. Once the baby has outgrown the need for a monitor, you can use a connected camera as a security camera elsewhere in the house.
5. Help Baby Go to Sleep (and Stay Asleep)
A silent house is the Holy Grail for a new mother as she tries to get and keep her baby asleep. As such, there's nothing more irritating than trying to rock baby to sleep in the nursery with the TV blaring in the living room. If your home electronics and lights are given smart capabilities (either through purchasing new ones or buying a smart plug to connect them to), you can control them all from your phone. That way, if daddy inadvertently fell asleep in front of Sunday Night Football or left the hallway light on, you can simply shut them off from your smartphone in the nursery.
6. Provide Peace of Mind
Make sure baby is sleeping in the optimal environment by placing a smart sensor in the nursery so you can easily be alerted if it's too warm, too cold or too humid in the room. You can even pair it with your smart thermostat to automatically adjust the temperature. Other devices will also monitor air quality as well as temperature and humidity. Door and window sensors will send an alert to your smartphone when opened, to let you know if anyone is going in and out of the room that shouldn't be. They can also be paired to do things like turn on the baby's lamp to a low light-setting when you open the door to check on him.
7. Take the Guesswork out of Bath Time
Remember how your mom used to use her elbow to check the temperature of the bath before she put you in it? While that's still a good idea (your elbow is far more sensitive than your hands), you can now install a Wi-Fi water heater monitor to set the temperature of the water from your phone, giving you the the peace of mind that the temperature won't reach scalding. Plus, when it's time for you to soak in a long, hot bath, you can easily adjust the temperature back up via your smartphone.
Of course a smart home is in no way a substitute for a smart mom, but as you can see, it can certainly help make the transition to motherhood a smoother one.
---
Jennifer Tuohy is a tech enthusiast who likes to write about how home automation can make your life easier. She provides creative tips for using smart home products to your advantage. Visit The Home Depot to find the smart home products including smart door locks that Jennifer talks about in her article.
Leave a Reply
One Response to " Seven Ways a Smart Home Can Help a New Mom "
Lauren Says:

OK, this one is AWESOME! http://www.homedepot.com/p/Kwikset-Kevo-Single-Cylinder-Satin-Nickel-Bluetooth-Enabled-Deadbolt-925-KEVO-DB-15/204379769?MERCH=REC-_-NavPLPHorizontal1_rr-_-NA-_-204379769-_-N

Totally getting a smart doorbell and lock now….