Supermoms with Cancer: Daily Coping Mechanisms
Author: Murphy Stidham
October 24, 2017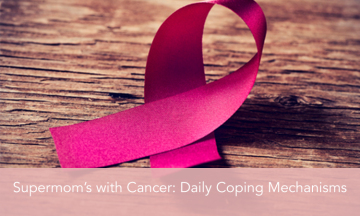 Today, guest author Murphy Stidham is exploring different ways to cope with cancer.
October is Breast Cancer Awareness month. During these awareness months we try as a community to do just that, spread awareness. As important as it is to be aware of your symptoms and to make sure everyone you know is watching for those symptoms, I encourage you this month to celebrate something. Celebrate survivorship. To me, this comes in many forms; it can come from someone who has beat cancer, and it can come from someone who fought as hard as they could during the battle. A survivor is someone who doesn't give up. Someone who lives every day they have, with purpose.
With this sense of survivorship and celebration, we now have a different form of spreading awareness. Your hypothetical optimistic glass won't always be "half full" during your cancer war. In fact, most days you may question everything. That's okay. This is a scary diagnosis. However, attitude goes a long way.
Gabrielle O'Toole, a breast cancer survivor and mother of two, says meeting and talking with other survivors was an important part of her finding peace and calm. "They had been through this battle and won," she says.
O'Toole says when she was first diagnosed she wanted to keep her normal routine, "but you find out after you hear the word 'cancer,' life isn't normal anymore." Mom's orchestrate daily routines in their households. So, with this diagnosis, slowing down may be difficult for some.
Motherhood and being human: You have entered the new normal, that doesn't mean you can't still be an amazing "supermom," it just means you will be that mom in other ways.
This means you need to focus on cultivating a plan that will help YOU adjust to this reality in order to help secure a "new regularity" in your loved ones lives as well.
Keeping in mind that every situation is different, O'Toole has something to say to moms who want to continue to do it all after diagnosis.
"The most important thing you need to do is to get well. Your family needs you in the long run. So in the meantime, let your significant other, family, friends and neighbors help you. It's so hard for Moms to let go. It's in our DNA to take charge and lead the charge. I know how hard it is. This is not the time to be supermom. This is the time to let all the people who love you and your family take charge."
According to the American Cancer Society, "You may have trouble with your family duties and the loss of control over events in your life." This diagnosis comes with more than illness and treatment. You cope with looking different and experiencing emotional changes. Your body is no longer moving toward the "healthy future" you originally anticipated. Your independence may feel like it is slipping away from you. This can be a major burden, especially if you are a mother who depends and thrives on supporting her family.
Your family members may be experiencing similar distresses as well. They now have uncertainties about what the future may hold, and this may make them angry, frustrated, and then guilty for feeling these things.
How should you work through these things? Yes, everyone's circumstances are different, but here are a few coping tools we can all utilize.
Talk things through.
Express your feelings and fears. It may help your loved ones feel comfortable with talking through their frustrations as well. Continue to create intimate discussions; you may have more to talk about than you even realized.
Support one another.
Decide with your family members or caregivers, what you can do to help one another. Your caregivers will be doing most of the heavy-lifting to help you through this, but that doesn't mean that you can't help them too. They love you and may need you. Decide what is best for your relationship to help you both remain strong.
Make use of spiritual support.
Whether you are religious or not, try to find some sort of spiritual outlet if you can. Find comfort in some form of prayer, meditation, or some other type of non-material, existential experience.
Cut out unnecessary anxieties.
Okay, I know this one sounds like your worst fear- but caffeine may be your enemy. Coffee, tea, energy drinks, etc. These types of intakes may add to your already peaked anxiety and make things worse. If you find yourself unable to stop your mind from moving in a thousand negative directions, try cutting these every-day items out of your diet. It may help you slow down and process things more clearly. Let your mind rest. (Bonus: It may also help you to be better hydrated which will help you feel better and aid in recovery.)
Medicines.
Your medical team is well equipped to help you through this trying time. It is important that you trust them. If you are struggling with constant worry, they may be able to help find ways to help calm your anxieties. Talk to your doctors; keep an open form of communication with them. They are a major part of your support system while getting through this.
Consider speaking to a mental health professional.
I know, I know. You have been independent up to this point, but asking for help doesn't mean that you have given up, or are weaker in some way. In fact, it is quite the opposite. The things you will endure from now on are not your "normal"… That means you have already realized that there are things that are out of your control, and you may not know how to handle them. This includes everything from physical changes, and medical treatment, to home and personal life changes, and many things in between.
Your friends, family and caregivers- although you love them, may not be able to help you in the way you fully need- because they have not necessarily gone through what you are going through. There is something therapeutic about being able to talk to someone who has no personal relation to you or your loved ones. You are able to talk freely about things that you may find embarrassing or feel too guilty to talk to the people you love about.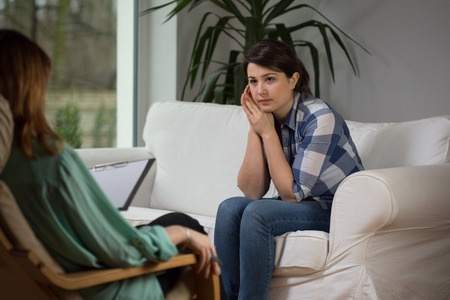 An outlet between you and a stranger who will hold your inner thoughts in a professional and confidential manner. Remember to keep communication open, and don't shut out or shut down your anxieties, fears and struggles. The more they build up, the worse they could get.
Ask your medical team to refer you to a counselor or mental health professional who can work with you and maybe even your family members. Give it a try, you may find you needed it.
Breathing exercises.
Take a breath and try relaxation exercises several times a day. Close your eyes, breathe deeply, and focus on relaxing each part of your body. Work your way from toes to head or vise versa. Once you have reached relaxation, imagine pleasant thoughts, places and things. Ease your tension and nerves by focusing on any good you can conjure up.
Discard blame.
This… this is key. Cancer is something that is horrible, and no matter what science explains- it always feels unjustified. It is out of your control. You have it, now what? Move forward. Do not place blame on yourself, loved ones, or anyone else. That will just drive you crazy, and waste time. Instead use your time to find silver linings. Look at your thoughts, concerns, and beliefs about what has been going on in your life and try to formulate something positive, anything you can. Even if it is something as simple is having a different perspective on life.
You are NOT alone.
Someone else has sat exactly where you are and thought the same thoughts. Ask your medical team about support groups. Allow yourself to open up to people who have been in your position. Ask them questions, share experiences, frustrations, or tips you have found helpful. It helps to know that you are not alone in feeling the way you are. Your medicines can affect your moods, your family dynamic is changing, your body is changing. As small as this "cancer world" may feel, someone else is living there too.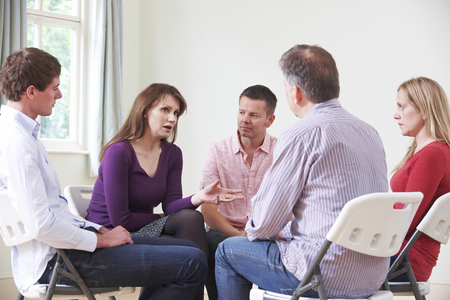 Your caregivers may need a support group as well. Your loved ones carry the heaviness of watching your changes and feeling helpless, even with as hard as they are working to keep you comfortable and positive. Suggest them going to a support group to speak with other caregivers. They may be able to relate to one another and find useful tips and tools to help them through this process.
You can find a group that works best for you, in-person or online.
Use tools to help you keep track of things.
This is going to be hard enough without having to remember how you feel every moment of every day, and report back to your doctor. Unfortunately, that is the reality. Your medical team is going to need to know your daily routines, and how your body is reacting to certain foods and medications.
Consider keeping a log to help you keep track of EVERYTHING from fatigue to nausea and anything in between. Try this chemoWave app. It is absolutely FREE and it allows you to log everything at your finger tips. This way, you don't have to focus on keeping everything together and organized. The app will do it for you!
Then when you go to see your doctor, and explain your symptoms, you will be able to show him exactly what you've been going through from the good to the not-so-good. This information is essential in helping your physician understand exactly what you are dealing with on a day-to-day basis.
This app, or the log of your choosing will help your medical team devise plans and come up with alternative solutions, if needed, to help you feel as comfortable as possible.
Cancer is not the end of the road, it is a major obstacle. It is not easy either, but with the right support system, coping tools, treatment, and frame of mind, you can fight it with everything in you.
---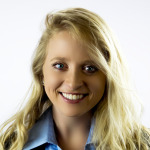 Author, Murphy Stidham is the Digital Media Manager for Team SML. She has a history with personal medical illness, including chemotherapy, and relates closely to patients with terminal diseases. Stidham has 23 years of working closely with hospitals and specialty doctors. She studied journalism and documentary production in college, and brings an essence of delicacy with delivery to harsh truth and sincere interviews in her pieces. 
Leave a Reply