Tips to be a Healthy & Productive Stay at Home Mom
Author: Amber Principe, SM Lifestyle
August 22, 2017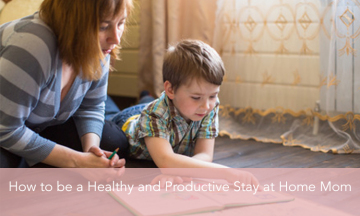 Today's guest author is diving into issues that every stay-at-home mom can relate to, and may be at war with. She has a few tips on how to handle these day to day struggles, keep your head above water, and wrap up your day feeling accomplished!
Deciding how to live life after a child has been born can be a difficult decision- will you go back to work or will you stay home to raise your child? There are pros and cons to both decisions, and the outcome is dependent on what's best for each individual family for many different reasons.
Whether you're a brand new stay at home mom or already have a couple of toddlers running around, you may have had those days where you realize it's dinner time and you're still in your pajamas. While there's definitely no harm in relaxing and taking it easy or having a day with nothing planned, if you want to stay as healthy and productive as you can as a stay at home mother, sticking to a fairly set schedule may be the key. This doesn't mean you can't be spontaneous and go on a play date if it's not scheduled for today, but some structure may prove beneficial to both you and the little one(s).
---
Below are some ideas and tips creating and maintaining your health, happiness, and productivity if you choose to stay home with the little ones:
1) If possible, wake up before the children do so you have a few moments to yourself to get dressed for the day and have your cup of tea or coffee. Just getting out of your PJ's and making the bed may help you feel more productive.
2) Learn to cut back on some expenses if needed and stick to a budget if you're not used to living on one income. If you have the time to stay organized, clip/print coupons and get organized with the grocery sales.
3) If your little one is still in diapers, Amazon Prime members can join Amazon Family and receive discounts such as 20% off diaper subscriptions. Have those bulky diapers delivered to your door instead of adding them to your grocery cart!
4) Becoming accustomed to cooking and eating the majority of your meals at home may help in regards to both health and finances.
5) Make lists for shopping, cleaning that needs to be done daily/weekly/monthly, upcoming activities and dates, meal plans, etc.
6) Incorporate some sort of physical activity into your daily routine. There's plenty of ways to include the little ones so they get their daily dose of exercise, too.
7) Get out of the house! Go to the library or  join a reading or craft group. Weather permitting, play in the pool, a friend's backyard, go to the park or beach, go for a walk or bike ride, or take the pup to a dog park.
8) Make mom and kid friends. Find other moms that you can bond with and other children for your child to socialize with.
9) Begin utilizing your desk or refrigerator calendar (or print out a calendar sheet) to organize your nap time, Mommy time, workout session, meals, clean up times, and quiet times.
10) Maintain cleaning chores such as dishes, the floors, and laundry. You'll feel better about life if your home is in decent order. Maybe designate one room of the house to each day of the week so you don't have to spend an entire day or weekend cleaning the whole house.
11) Do your best to maintain your relationships, especially with your spouse/partner. Schedule time to go on a date with your husband, parent, or best friend.
12) If needed financially or if you find that you miss working, begin some form of income: blog, add a couple of other children to your day by offering babysitting/daycare services, or sell something you love making (candles/soaps/knitted scarfs/wood projects/aprons, hand-painted coffee mugs, pet treats).
13) Schedule your Mommy time. Don't completely give up your hobbies whether it's a craft, running, photography, baking, playing a musical instrument, reading, gardening, etc. Schedule a few minutes a day or a couple of times throughout the week to do something you enjoy or that relaxes you (mani/pedi, bubble bath).
14) Learn how to say no to activities that could overload your schedule and cause additional stress.
Keep your life organized! Every mother needs to have help scheduling day-to-day activities. These are some items that can help you stay on top of this. Lists are your friend, ladies!
Monthly Calendar

Daily Schedule Pages 

Weekly Menu

Shopping List

Cleaning Day List

Income and Expense Tracker

In Depth Budget Pages

Activity Ideas
Remember that it's okay to ask for help! And forgive yourself; you will make mistakes. Your life won't look like someone else's "life" that you see on Facebook or Pinterest. It's okay when something doesn't go as scheduled. It's called life and balance and "organized chaos". Enjoy those growing munchkins while you can and soak up all those kisses and memories as much as possible.
 Every Moment Matters!
Leave a Reply