Toddlers and Technology: A Guide to Healthy Use and Development
Author: Gwen Lewis
January 31, 2018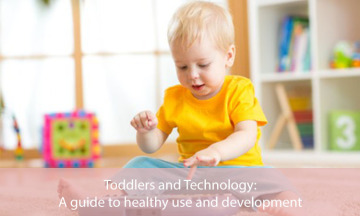 Today guest author, Gwen Lewis is sharing tips on how to keep your little ones distracted without technology and why too much screen time may actually work against them in the long run.
_____________
Almost every parent with a toddler has sat in a restaurant waiting for food only to have that wait drag on…and on. Toddlers aren't known for their patience or their ability to be cool and collected in the face of an empty belly. As the stash of healthy snacks or crackers are quickly plucked from the baby bag to stave off a nightmare firestorm of hunger fury, most parents also hand over something else to pacify…the smart phone.
Everyone has seen toddlers on devices at restaurants, in shopping carts…maybe even at PTA meetings. The devices are a quick and easy cure all to quell a child's boredom and avoid a meltdown. Easy, simple solution. However, most pediatricians recommend that parents limit a child's screen time. Parental reliance on the technological pacifier isn't a good solution for young children…and it might even be detrimental to their development.
Boston University researchers addressed the issue of technology for toddlers and if the use of technology as a distraction actually affected toddlers social and emotional growth. The discussion regarding toddlers and technology was published in the journal Pediatrics. One of the authors, Jenny Radesky, MD, clinical instructor in Developmental-Behavioral Pediatrics at Boston University School of Medicine and a former fellow in pediatrics at Boston Medical Center, evaluated the possible (and detrimental) effects of technology.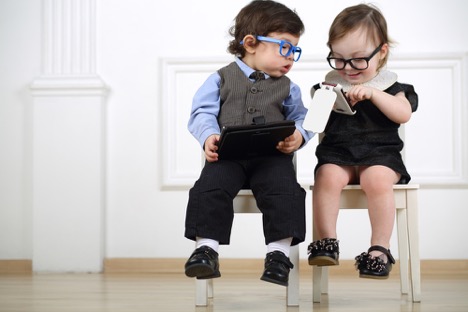 "It has been well-studied that increased television time decreases a child's development of language and social skill," Radesky said in a press release from the university. "Mobile media use similarly replaces the amount of time spent engaging in direct human-human interaction."
However, the article in Pediatrics also provided a bit of guidance for parents on how to utilize technology. The researchers suggested that parents should avoid allowing children to view violent content…but to discuss it if the content is viewed, and they suggested educational content for kids to explore and view. Researchers also advocated that parents and kids should use technology together. For younger children, the best advice is to not use technology to pacify.
According to the article, "asking about mobile/interactive media use provides a window into how parents help their children learn to calm down and is an opportunity to discuss how media can either support or displace important parent-child interactions and play."
Here are a few additional tips to ensure that you and your toddler aren't relying on technology as a distraction tool for a quick quieting solution:
Pack portable games.
Toddlers love technology for the games and fun graphics. But small games also provide the same entertainment with more interaction. Stock up on little games of checkers, tic tac toe, or other fun favorites. These small games are cheap and fit in a diaper bag!
Coloring books and crayons.
Remember fun pads when you were a kid? They still exist, and they are still lots of fun. Let your child scribble, color and work their way through mazes as they wait for food or stroll in the cart at the store.
       3. Books.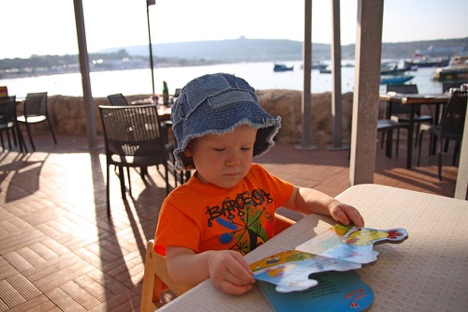 Old fashioned entertainment! Buy some board books or other interactive books and read quietly to kids. You'll likely be the most idolized parent in the store…or restaurant. Reading aloud also helps build phonics skills and prepares younger children to be readers and boosts brain development. Books are priceless!
 Talk.
Bond with kids. Talk about the day. Use games like "I Spy" to utilize their natural curiosity. Engage them.
Dough art.
Some restaurants give kids dough to play with, but it's also a great idea to pack your own! Make up some easy play dough at home, use food coloring to dye your dough fantastic hues and break it out when boredom strikes. You might even want to pack little cookie cutters or molds. Check out Living Well Mom for an easy DIY recipe.
The next time you and the toddler are out for a bite or shopping at the grocery store, resist the urge to break out the smart phone or tablet. Kids are capable of entertaining themselves without the screen.  Try to keep other sources of entertainment packed for those not-so-fun moments out…you may be surprised that hands-on fun works better than the screen!
---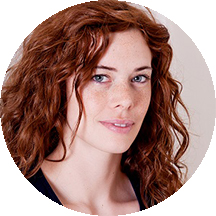 Meet the Author:
Gwen Lewis
Gwen Lewis is a lifestyle writer who lives in California. She has been in the makeup and fashion industry for years and loves writing and giving tips on all things beauty, health and lifestyle. In her free time she loves to stay active and has actually taken up surfing!
Leave a Reply