About Shannon Miller Lifestyle
Powered by America's Most Decorated Olympic Gymnast, Shannon Miller Lifestyle promotes a healthy and balanced lifestyle. Targeted to women, with a focus on health & wellness, it includes the topics of fitness, nutrition, pregnancy, motherhood, cancer awareness, and more. SML reaches out through various partnerships, programs, products, and technologies to educate, motivate, and inspire all women to be their best. 
Partnerships & Programs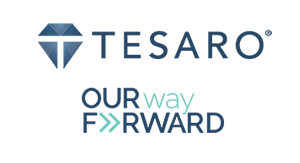 Tesaro® Inc.
Shannon teamed up with TESARO, Inc., an oncology-focused bio-pharmaceutical company, to promote and contribute to their Our Way Forward initiative. Our Way Forward is a call-to-action that encourages ovarian cancer patients, their loved ones and healthcare providers to rethink how they talk about advanced ovarian cancer and ways to partner together to navigate the physical and emotional challenges that the disease brings.