SPROUTS: Growing Microgreens — Part 6
Author: admin
Make sure you check out the previous parts of Susan's series on how you, too, can grow sprouts in your home to save money and start a fun hobby!
You can grow microgreens at home with or without soil.
Growing these nutrient-dense greens will reduce your grocery bills and revitalize your health.
In the last Blog, I introduced you to microgreens. Most of the microgreens I grow are without soil; they are hydroponically grown. A few of them such as cilantro, beet and sunflower seed greens, do better in soil. If you order the Microgreens Kit, you will have the supplies you'll need and complete instructions. You will need to provide a few other materials like lemon juice to adjust the pH of your water and scissors to harvest. Obviously, you'll also need clean water. Keep in mind that the trays you get may be re-used many times, and it's fine to section multiple crops per tray, as I often do. Also, at the website above, watch the short, helpful instructional videos. You'll also find detailed info on microgreens and healthy living on my website SusanSmithJones.com.
Tips for Growing Microgreens Hydroponically
Planting Too Thick — If you spread your seeds too thickly, the microgreens will come in too dense and be susceptible to rot. If you feel like your greens are coming in too thick, you can always thin out the crop by carefully plucking individual plants.
Planting Too Thin — For microgreens, this will make for a small, scraggly crop, but won't cause any trouble.
Underwatering — Watch carefully for any signs of wilting. The grow pad should be kept fairly soggy for the full growth cycle. If the grow pad is merely damp, there is probably not enough in the tray.
Overwatering — Microgreens will thrive if the roots get the right mix of water and oxygen. Overwatering causes the root to not get enough oxygen and makes the crop susceptible to root diseases, and can even result in the loss of the tray. Avoid any puddles that extend above the root line. Ideally water should lay in the channels of the bottom of the tray.
Re-Cutting — Once harvested, microgreens will not re-grow. Dispose of the spent grow pads.
Multiple Crop Trays — There is no problem in sowing multiple crops in the same tray. In fact, it's a great idea! I do this all the time. You can easily segregate your seeds into different sections of the same tray, as long as the harvest times are reasonably similar.
Temperature — Cold may slow down growth rates of your microgreens. A nice warm spot will speed things up. Make sure however that your microgreens are always well-lit as light is more important than temperature. Visit GrowingMicrogreens.com for heat mats and other growing supplies.
Generally Weak Crop — If you baby your crop too much, it can make the crop weak. Microgreens should struggle a bit to survive. If they are not kept in the dark long enough, the result may be a weak looking crop. If you are having trouble with weak crops, you can add a little stress to strengthen your crop. Instead of uncovering your crop and exposing to light after 4 to 5 days, take the tray you are using as a dome and flip it. Spray the underside of the tray to moisten it, and lay it inside the growing tray so that the bottom of the tray rests on the top of your seedlings. This will force your crop's roots to penetrate the pad instead of snaking across it and grow much stronger to lift the tray and reach for light.
Pale Crop — Consider using a stronger light source for your microgreens. I recommend a good LED grow light that's available at GrowingMicrogreens.com.
Mucilaginous Seeds — Mucilaginous seeds should be sown and cared for the same as any other seed. However, they may be more sensitive to drying out in the early stages of sprouting. Make sure they are misted and kept damp.
Presoaking — Some seed types will do better if pre-soaked. Refer to the notes and directions that come with your Microgreens Kit. Presoak for the indicated time period in cold water.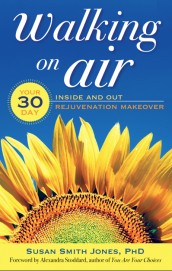 In my new book, Walking on Air: Your 30-Day Inside and Out Rejuvenation Makeover, I offer a month-long, life changing, step-by-step program for a healthier, happier and more successful you. It's short enough for anyone to complete, yet long enough to create significant changes in how each person feels. I show you how to make simple, effective choices with your food, home, personal style, body, relationships, lifestyle, finances and your attitude. After a month's dedication to this plan, you'll feel rejuvenated both inside and out and more like you are walking on air. To order, call: 1-800-523-9971 (US & Canada) or 215-632-6100 (Intl), both ET. With each purchase of the book, you'll get a free copy of my booklet/CD combo on natural remedies entitled Nature's Medicine Chest.