Childhood Obesity: Two Doctors Leading the Way for Your Kids
Author: Shannon Miller Lifestyle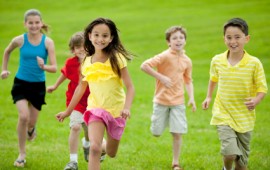 In the news: Childhood Obesity is a staggering epidemic.
According to the Center for Disease Control and Prevention (CDC) of the United States, a third of all American children are overweight or obese.
20% of American children between age 6 and 11 are obese. That means one in 5 of these children are obese.
Obesity brings a slew of medical problems, including high risk for:
heart disease
diabetes
stroke
certain cancers
depression
For a child as young as six, a set up such as this is pretty frightening. Beyond great strides in medicine, we are looking at an entire generation of people who may not outlive their parents, and those children may become parents of the next overweight generation. It is a cycle that could spin out of control?…or it could stop here.
There are many medical doctors who believe they have no business in the field of obesity. They feel under-trained in nutrition and exercise. They can look at a patient and either refer her to a registered dietician, or prescribe weight loss medications. In many cases, registered dieticians are backed up or unable to take more patients. They may only see their patients every quarter, and many of them are not trained in children's needs. Medication, on the other hand, fights a symptom, but not a cause. What message could it send to a family and a child to prescribe a pill rather than prescribe nutrition?
Food is medicine. Good food is good medicine. And this kind of medicine can heal a child and heal a family. Exercise is also medicine. Exercise can solve many health problems, perhaps even reversing symptoms of diabetes and heart disease. Nutrition and exercise are the solution, and some doctors have returned to this kind of medicine.
Dr. Caroline Cederquist is the head doctor and CEO of Cederquist Medical Wellness Center in Naples, Florida. Dr. Cederquist takes a "Total Approach" to every patient. Her youngest is six, and her oldest is ninety. The total approach means nutritional counseling, referral to a personal trainer for exercise, and even psychological counseling, as issues surrounding weight loss can be preceded by traumatic events, or can bring up social and psychological questions.  Upon meeting Dr. Cederquist, the patient gets a personal approach to the family dynamic questions, DNA connections, and personal habits that can add up to an individuals weight problem. She says that most people who come to see her have a problem in their metabolism. It is not working the way it should. This can happen because of family history, or because of dietary and physical habits that have impacted the person's overall metabolism. Regardless, she takes the blame game away, and focuses on the now and the future. She is descriptive and precise with instruction, and then sees her patients every week for the course of the program.
Another Florida doctor is Dr. Sejal Shah. She devised a system now franchised in to several clinics, called Medi Weight Loss Clinics.  This is not your typical fly-by-night weight loss clinic. This is led by a medically trained staff, and works on each individual's weight loss based on sound nutrition and exercise prescription. When Dr. Shah works with children and families, she gives them simple solutions with simple instructions. When it comes to kids, Shah says "No kid wants to do her mother's workout, and no kid is going to Mom's weight loss meetings." Insert image of a teenager rolling her eyes when mom suggests the newest class at her gym. Kids speak the language of technology, and technology is where Dr. Shah is. Instead of journaling on a notebook every day, kids can text in their foods as they go through their day. Their journal entries are automatically uploaded into a journal. Dr. Shah and her doctors review the journal every week, with gentle nods toward small changes. These small changes, when added together, equal a much healthier life. She also does not prescribe a typical workout to an obese child. Obese children will not run lap after lap with a trainer, and they do not feel comfortable joining their neighborhood swim team. Instead, she starts where they are already; the world of gaming. She has a list of great workouts and accidental-exercise games from systems such as Wii and Kinekt. These systems are self-motivating and can lead to greater adherence to a kid or teenaged program.
Other programs for kids include proactivekids.org and collaborateforhealthyweight.org. Because of the dire need for help in this area, many more organizations and clinics will be opening.
To look for a good child obesity program, look for one that offers:
Medical staff with credentials
Food-first nutritional programming
Appropriate exercise programming
A policy of seeing clients on a regular basis for the life of the program
SML Tip: Be Sure to check out our Shannon Miller Lifestyle Women's 5k and 1 Mile Kid's Fun Run on April 7th at the Jacksonville Landing! It's great to run downtown in the morning, then hop in the water at the beaches or river afterwards! This not only gets your kids active (without saying the word "exercise"), but they will have a blast!